Broadlink RM Mini Smart Home Control
customers are viewing this product
The Broadlink RM Mini3 is an universal remote for you to control infrared appliances through your smartphone.
Voice Control:Compatible with Alexa and Google Home to voice control your TV, Air Conditioner.casa inteligente  
APP Control:Control IR appliances with IHC App anywhere anytime ( Turn off the 5G hz wifi if there is one. Please use 2.4 GHz Wi-Fi). Set up timers to turn on/off appliances at a specific time or customize scenes with multiple devices. Turning your basic home devices into smart devices and making life smarter and more convenient. Note:Download the new BroadLink Intelligent Home Center (IHC) App(Suitable for iOS 7.0 or above, Android 4.0 or above.).
Compatibility:Large IR database that over 98% IR remote function. Supports 50,000+ IR (IR only, no RF, compared with RM PRO) controlled devices, including your TV, DVD, audio, Air Conditioner, satellite, PVR and more o ption to program your devices features if certain cloud data is unavailable.
Scheduled Feature:Enable and schedule features on a daily basis and customizable for your needs.  
Tech Support & Warranty:1-year warranty, and 24/7 unlimited technical support and online tutorials are available.
IR remote control distance: 12m
WiFI frequency: 2.4GHz 802.11b/g/n
Item size: 5.50 * 5.50 * 6.45cm / 2.17 * 2.17 * 2.54in
Package size: 8 * 8 * 9cm / 3.15 * 3.15 * 3.54in
Package weight: 150g / 5.3oz
Broadlink RM Mini3 Universal WiFi 4G IR Remote Control Via APP Control Smart Home Works With Alexa Echo Google Home Mini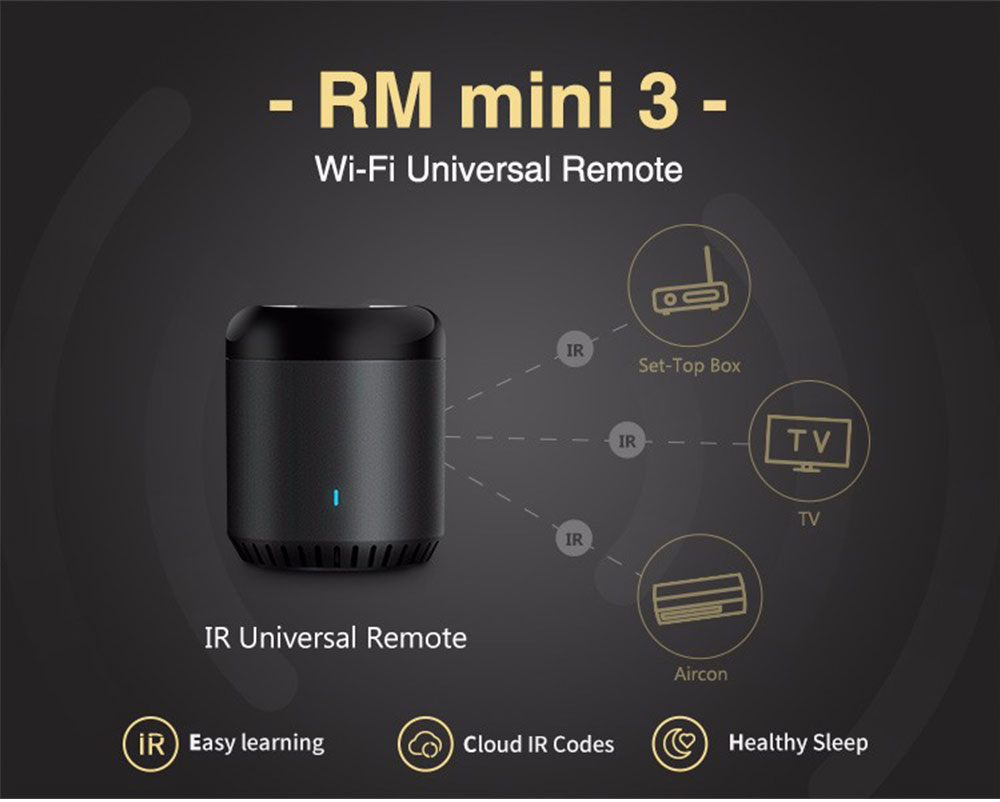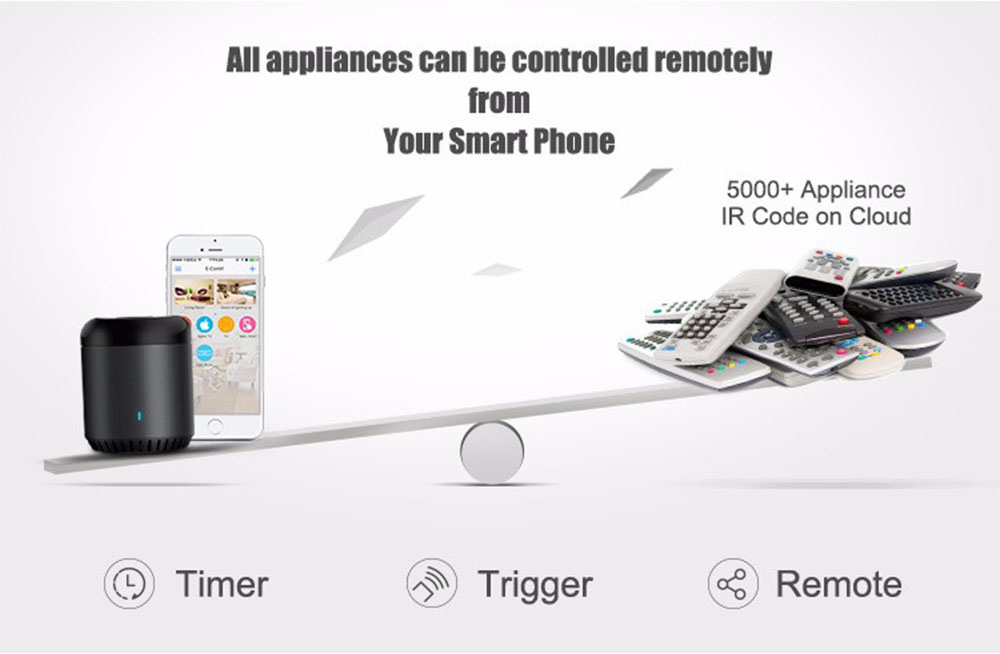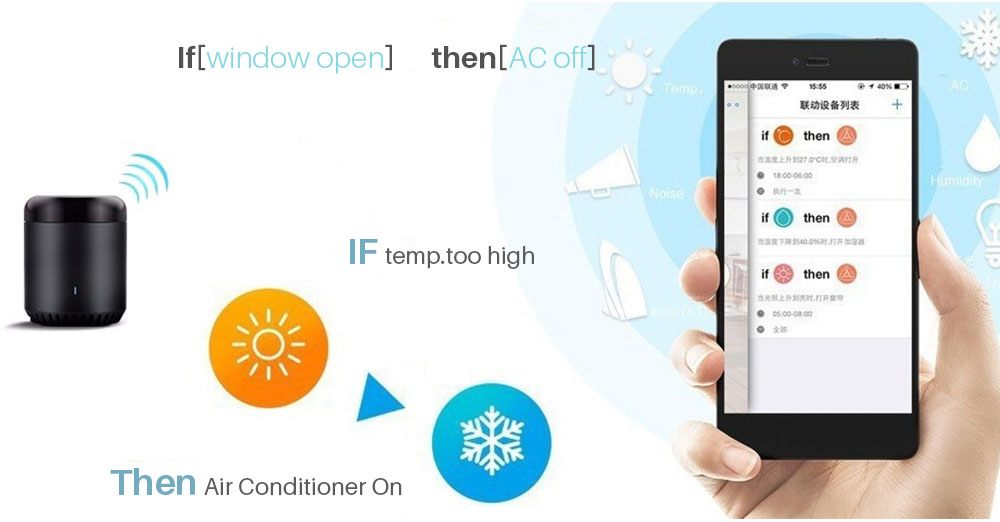 Smart IR Remote Control
Remote control by phone / Healthy Sleep / Multiple sets of timing / Voice control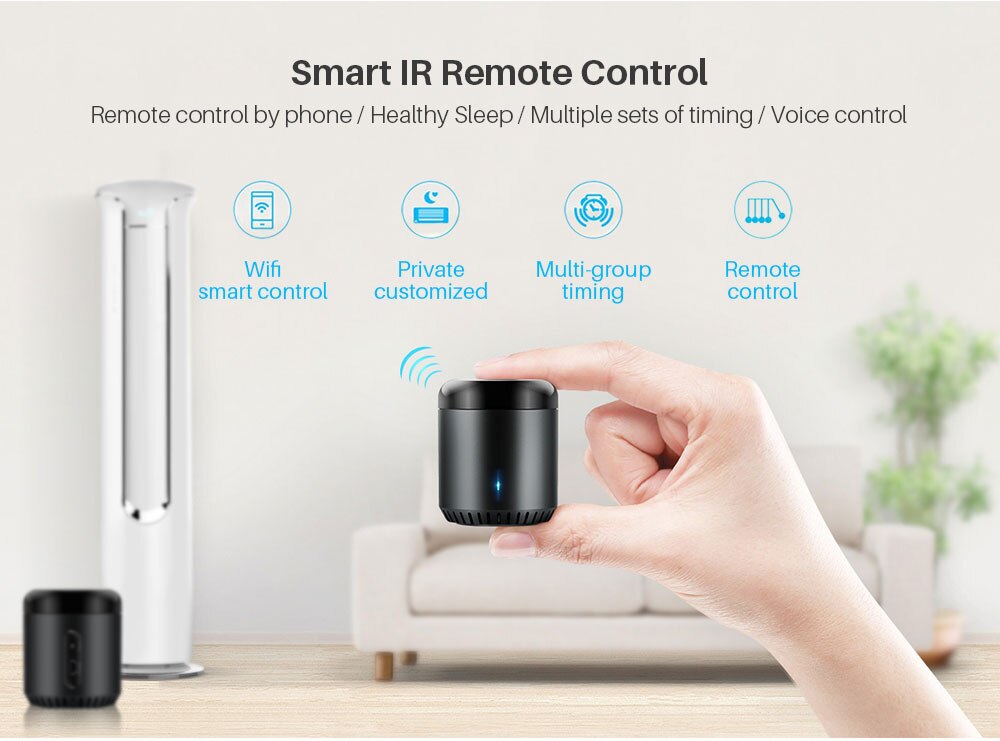 Compatible with Alexa and Google Home to voice control your TV, STB, Air Conditioner and Fans.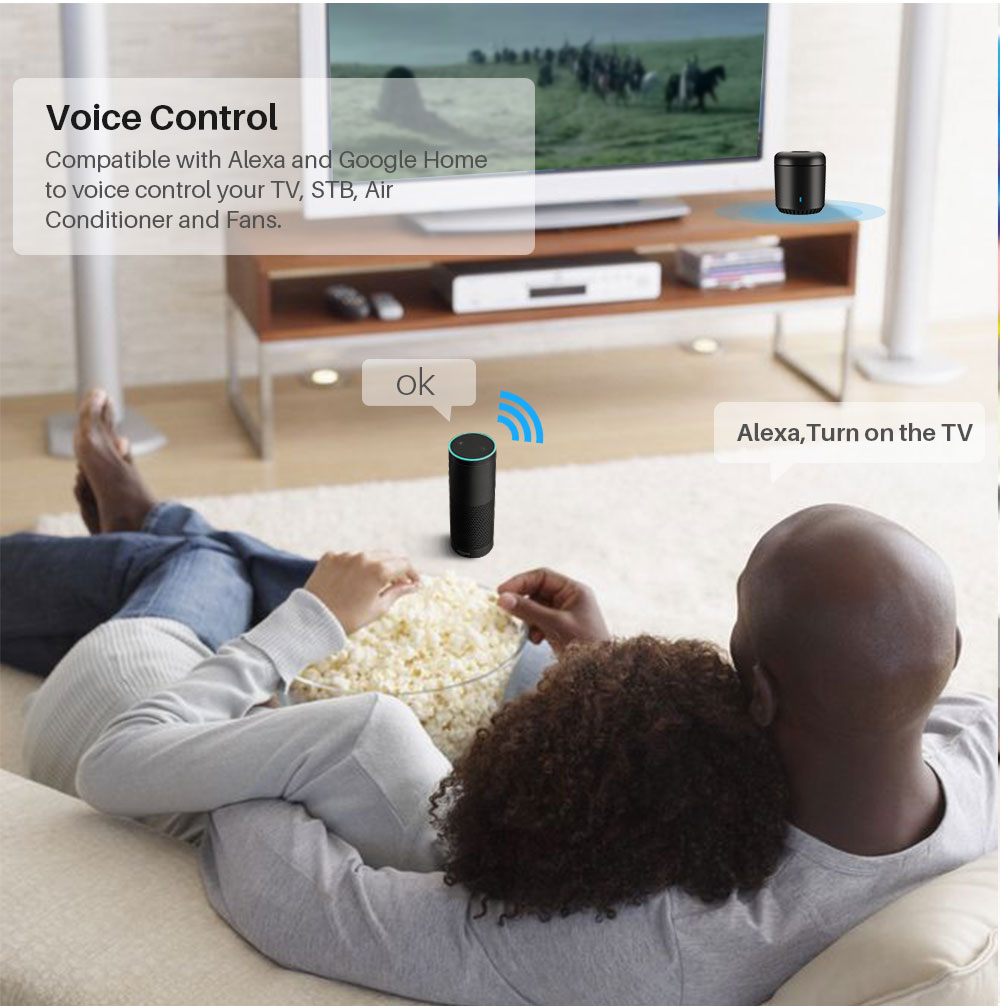 Temperature Control Manager
-Further study the relationship between human sleep and body  
temperature rhythm change, designing healthy sleep function 
-Follow up sleep habit to set the air conditioning state in the 
regional time
-Full care for your exclusive sleeping temperature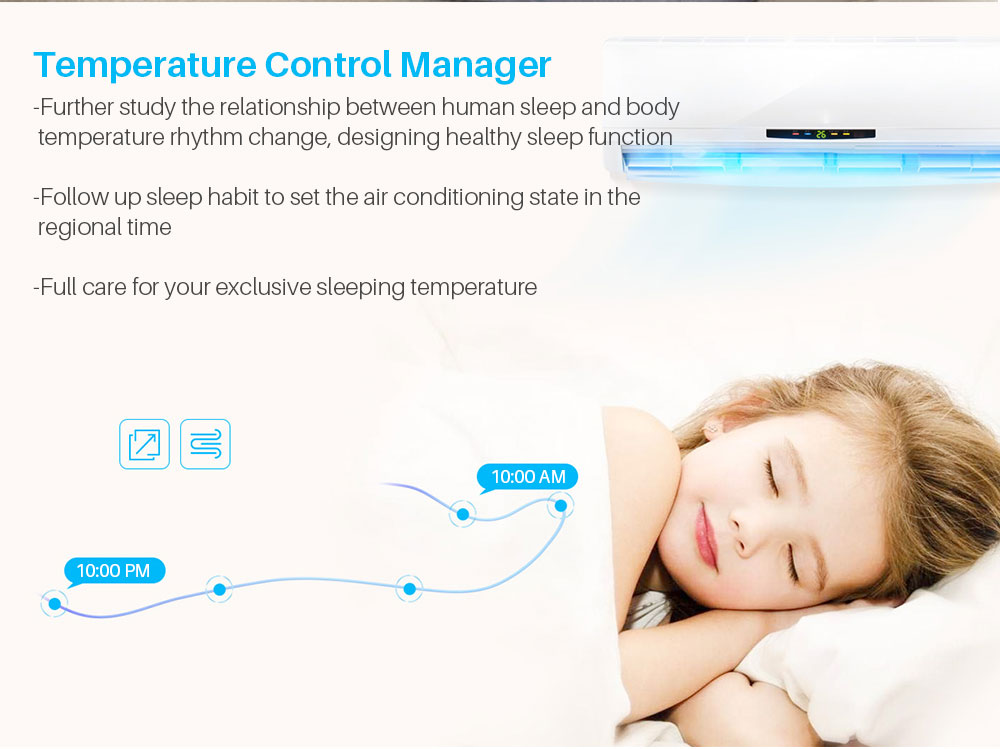 Turn on your air-conditioning, no matter where you are
-Support 99% air-conditioning in the market, automatic cloud panel match, one button download app to remote control. 
-Turn on AC before you get home, enjoy the warm time when you arrivel home
-Full care for your exclusive sleeping temperature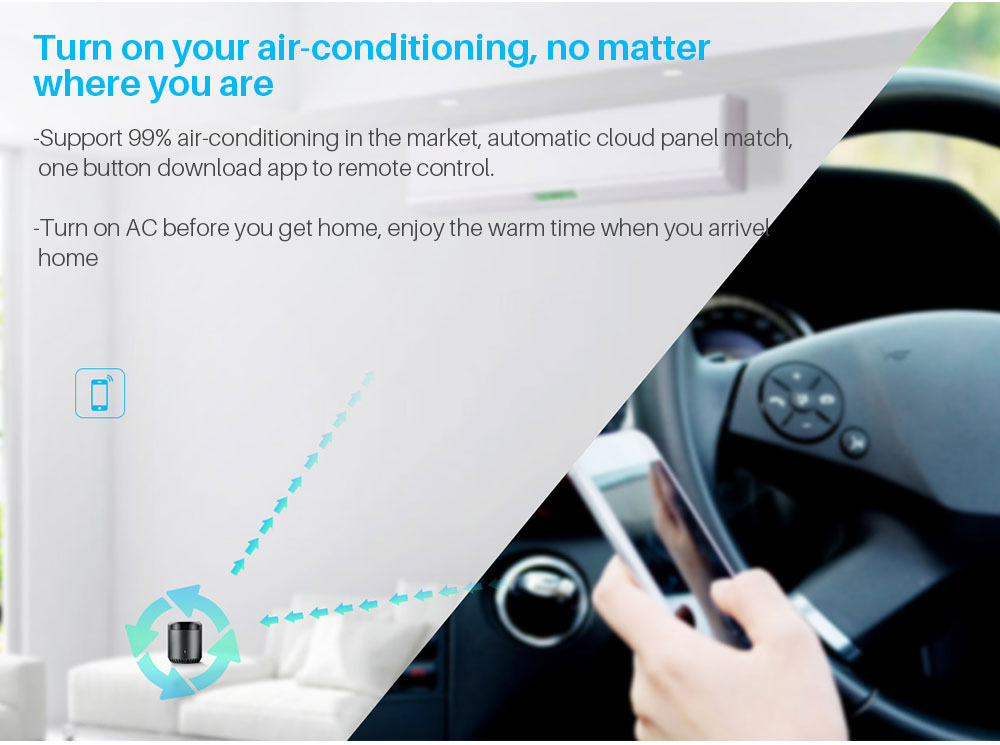 -Not easy to care for your pet during working time
-Cold in winter, hot in summer
-Full care for your exclusive sleeping temperature
-Remotely open air conditioning, don't worry about lovely pet alone at home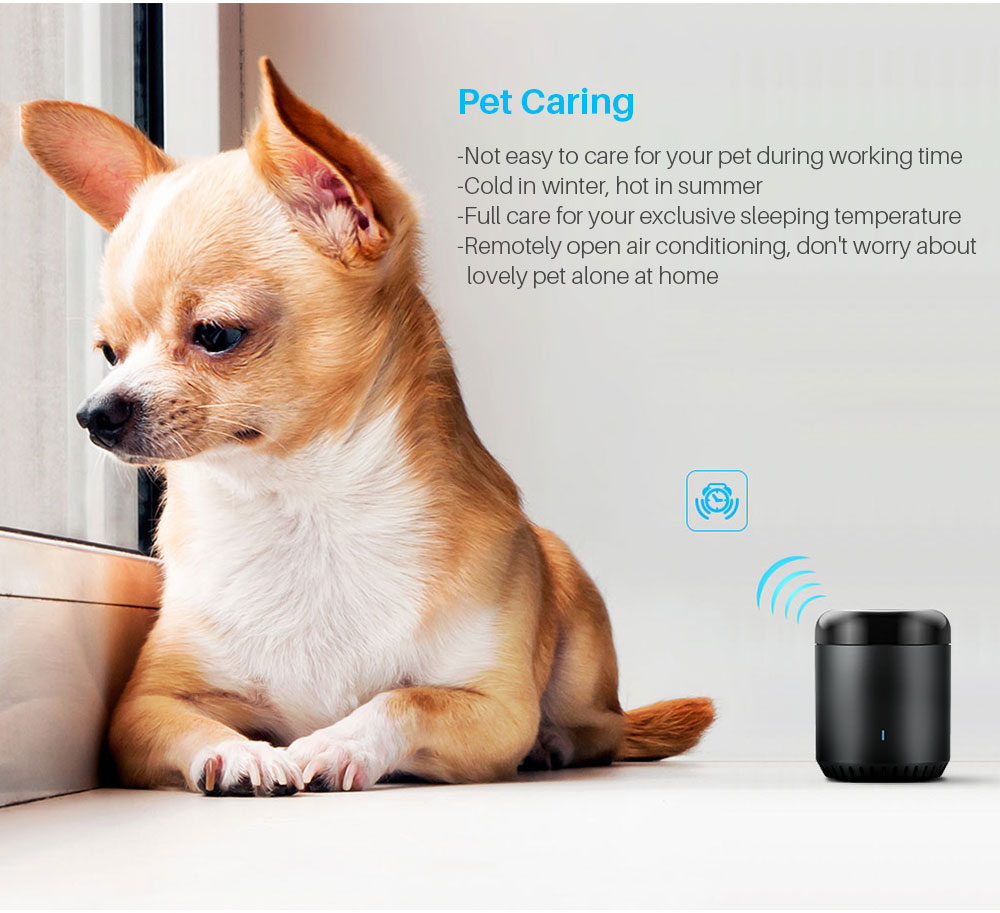 light,air conditioning automatic open
light and home appliance automatic close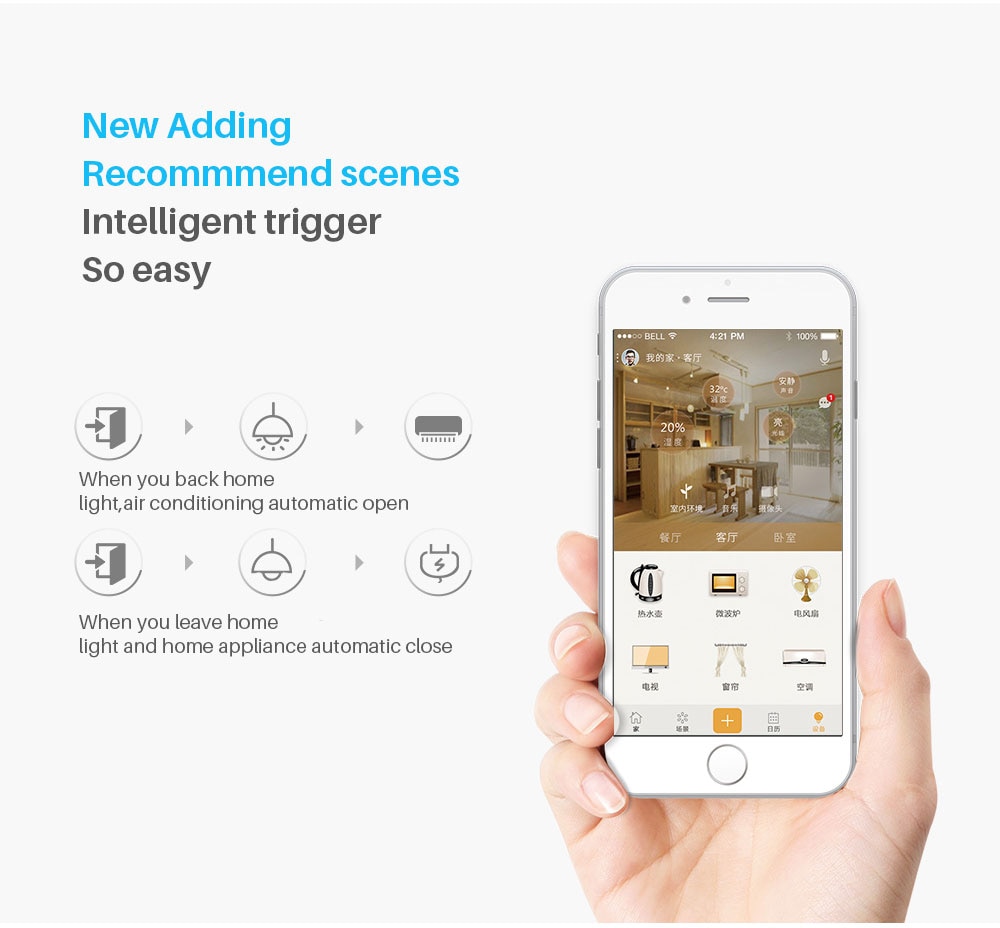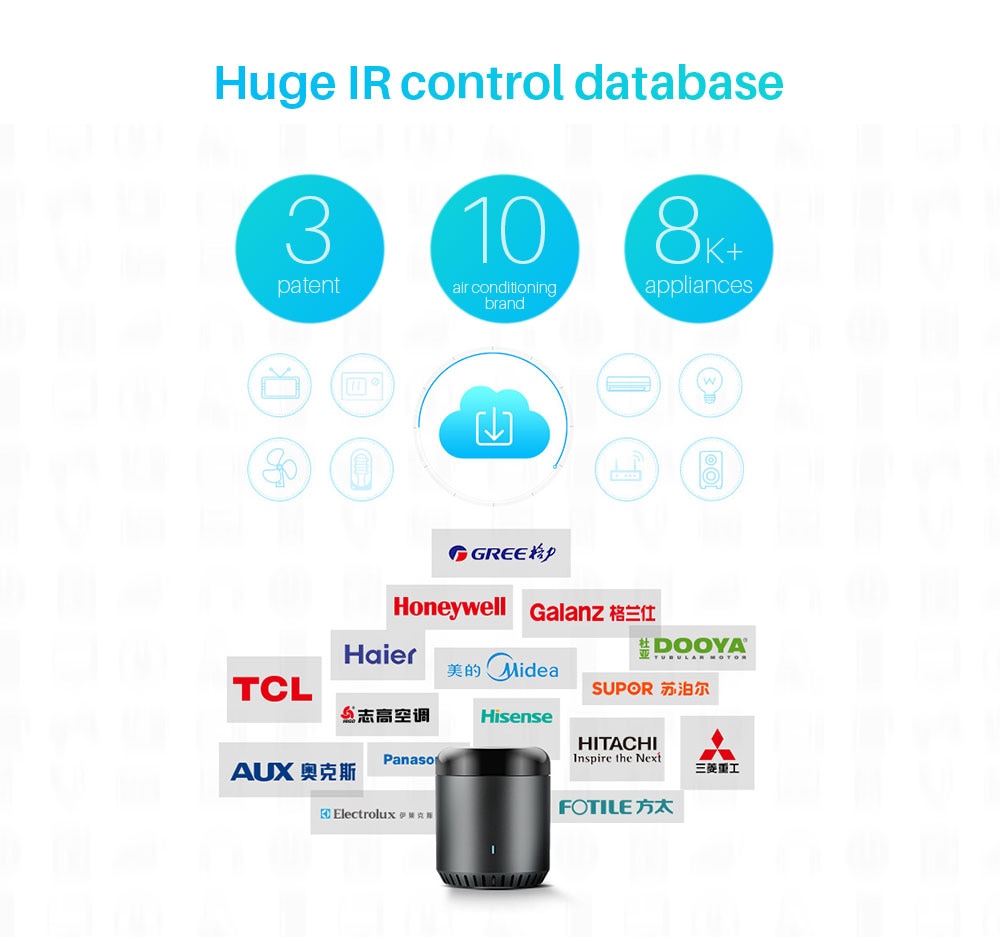 Infrared Transmitting Material
Reduce the infrared diffuse reflection
Infrared transmittance Rate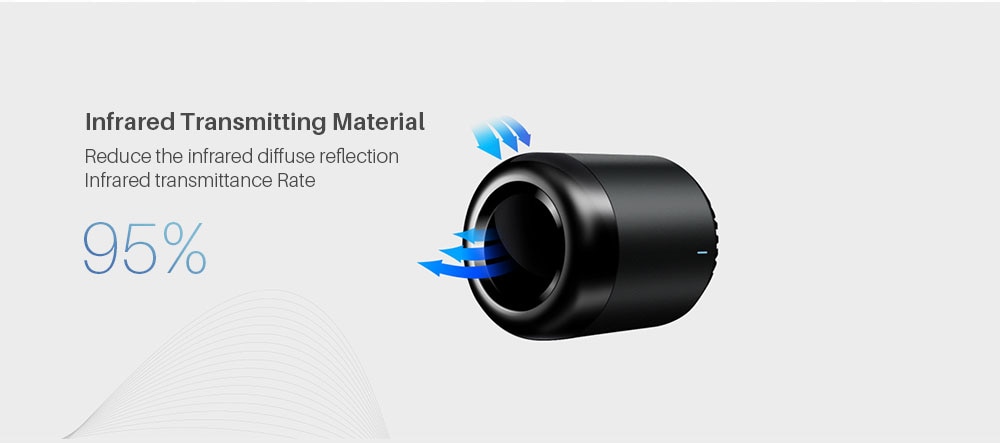 Fashionable and beautiful
Outlines the simple art and crafts

Petal shape projection lamp
Multi-directional level launch
Guarantee that every order will be served quickly and accurately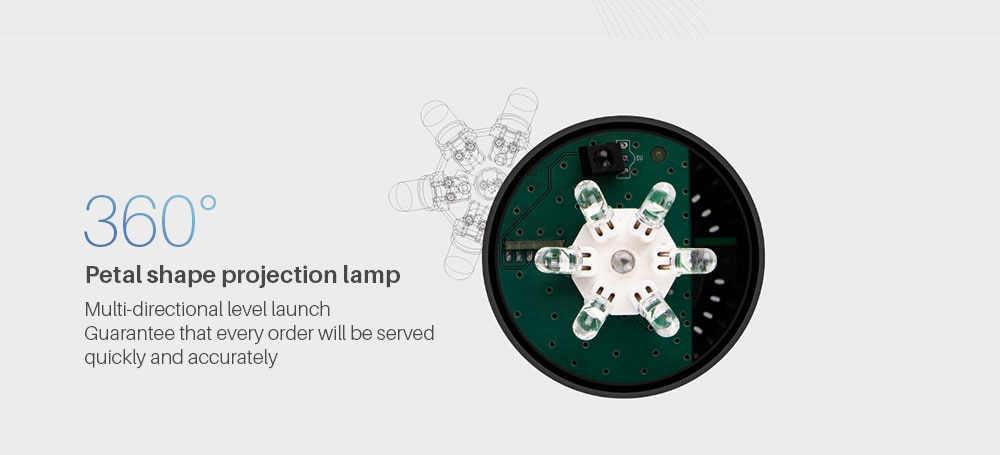 High Quality Income Material Control
Every Components and parts from the top manufacturer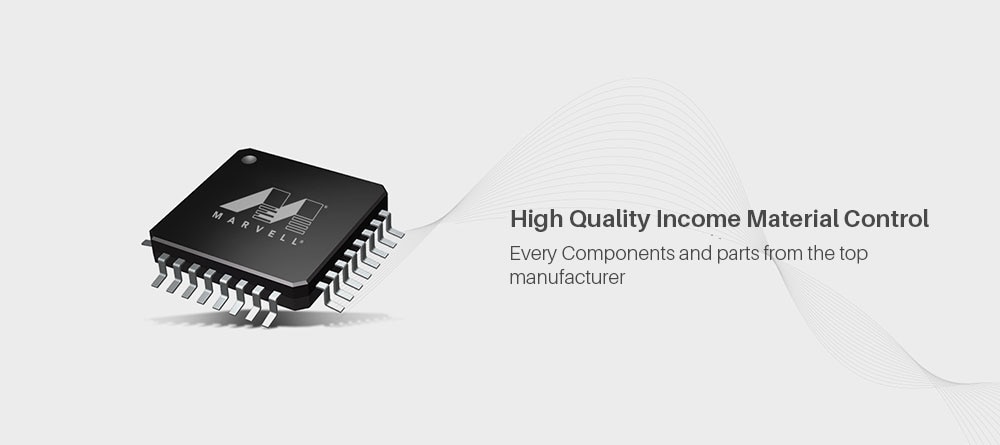 Independent research and development of WiFi Model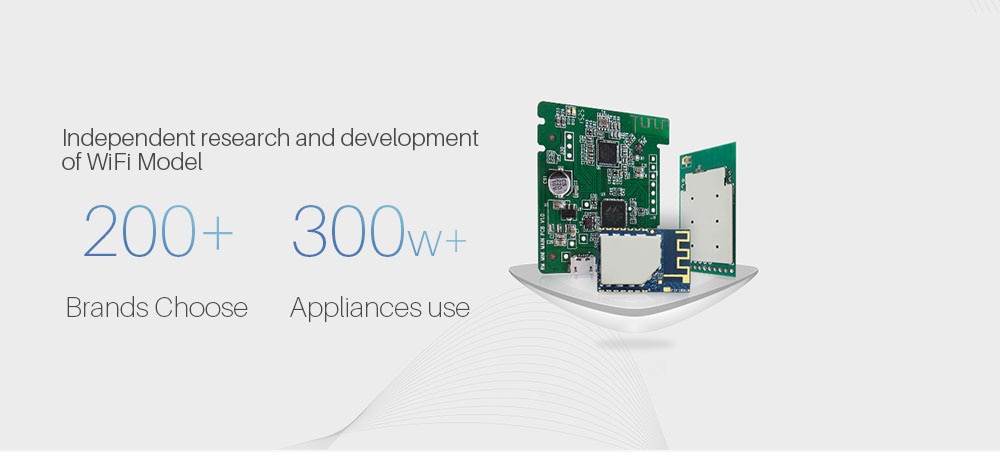 Creative noodle charge cable design
Random wound,no knot,high quality PET wire,soft and durable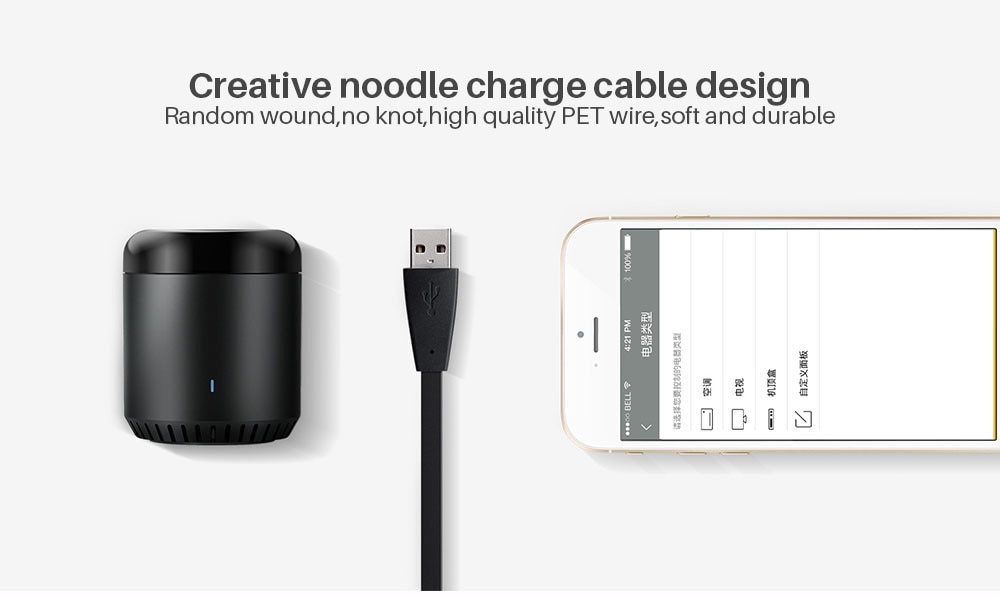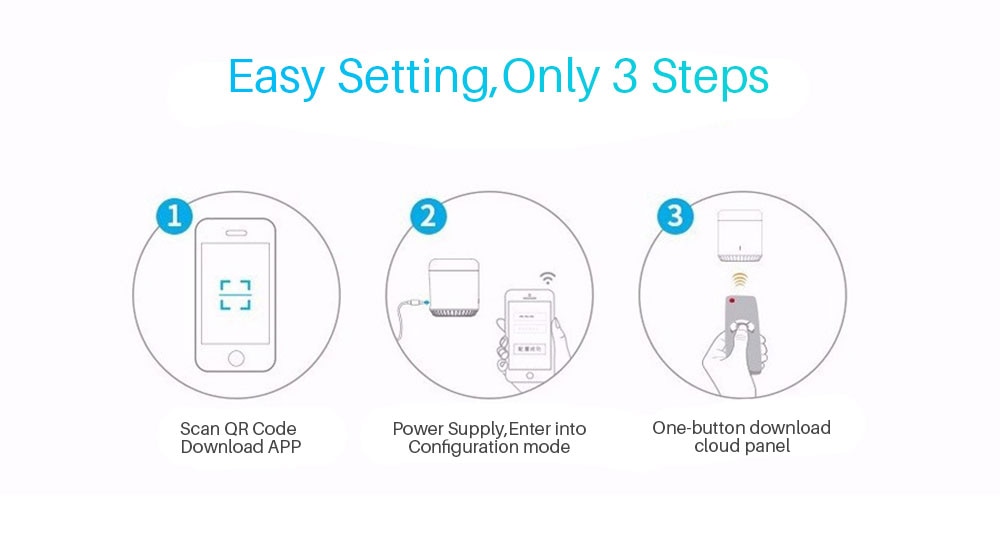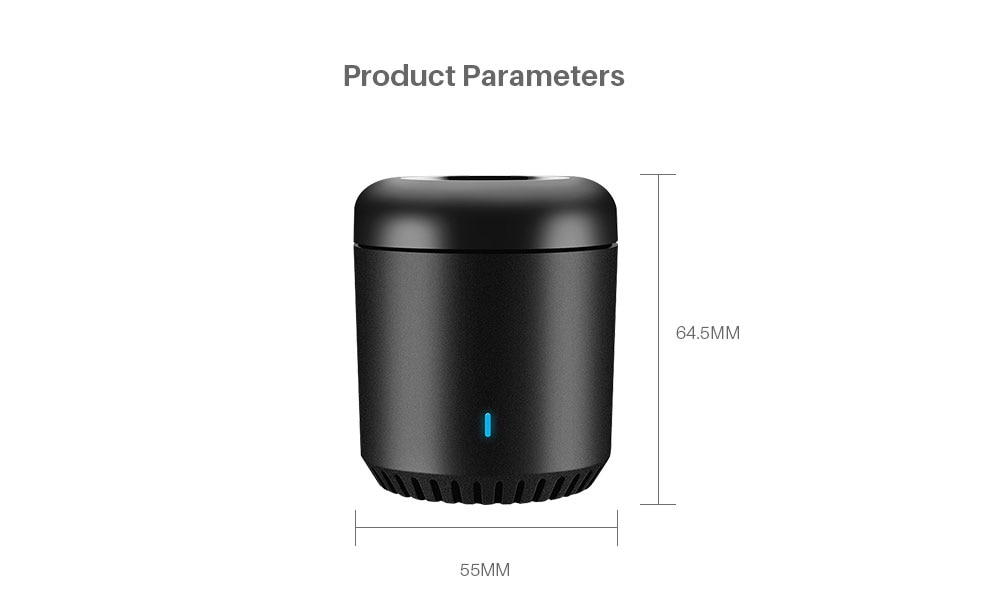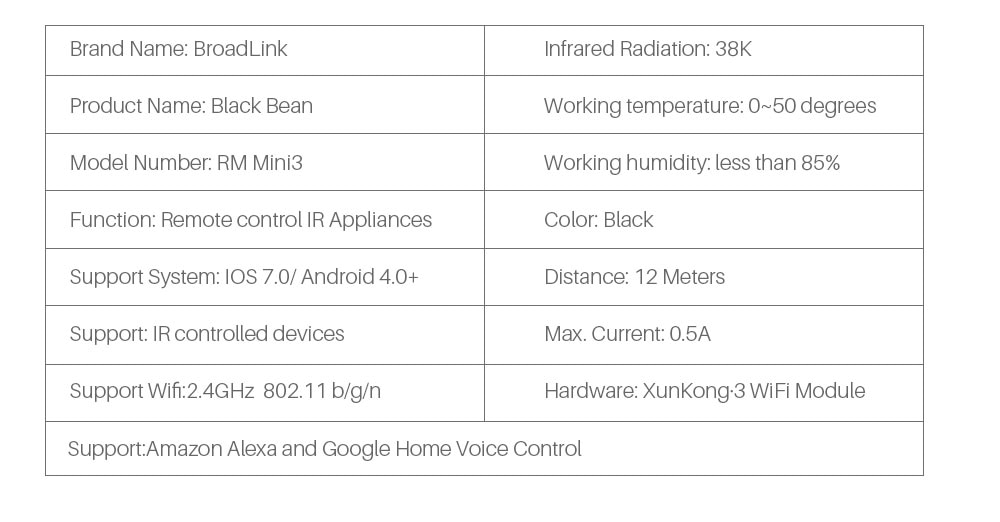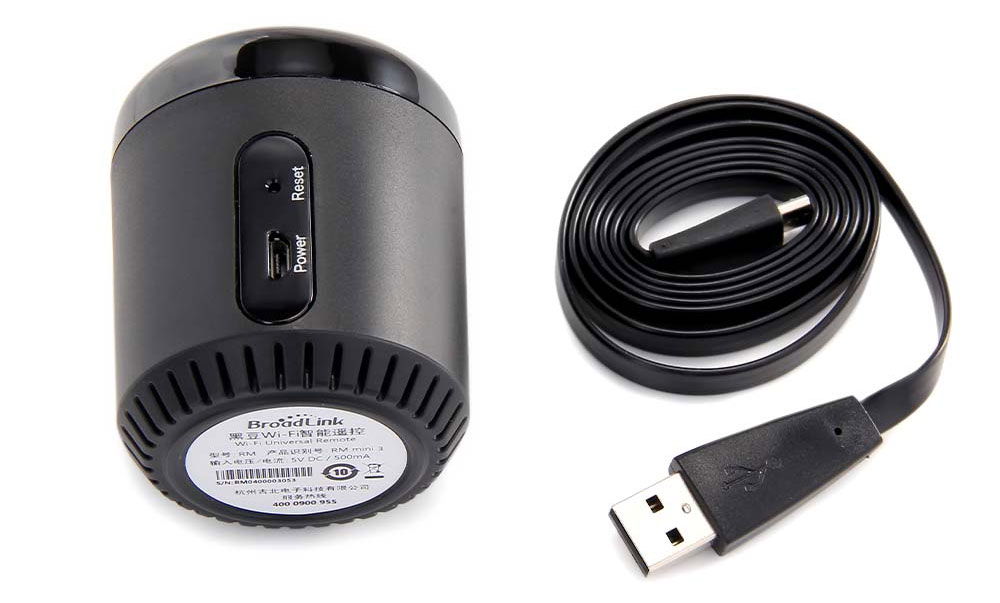 Note about RM4C Mini:
Due to Google Assistant closed connection ports for TVs and other entertainment devices,So currently RM4C mini can only control air conditioner through google assistant.Please note.
Description for RM4C mini
100% brand new and high quality Portable and durable, easy to carry, lightweight This product is a revolutionary smart intelligent appliance controller. It is the first good Intelligent remote control. Air conditioning, televisions, set-top boxes and other appliances can be easily controlled, mobile second remote control. Designed to help you get more control and perform better. It enables you to smart your home any where you are, as well as any time you want. RM4 Cmini is the real ultimate universal remote control with the following Support 80,000+ TVs, air conditioners, audios… Automatic codes update from cloud Automatic device matching without learning Support IR remote controllor home appliance iOS/Android app control from anywhere Home/away mode, sleep/wake-up mode, parents mode and security mode Support all IR controlled devices such as TV, Air condition, DVD and etc,not support remote wall switch,not support Electric curtains and so on IR signal donot through the obstacles Support Wifi 2.4GHz b/g/ Support Apps for Android 4.0 and IOS 7.0 or Above Control your TV by your smart phone via interne You can set the boot time of TV/Air condition/DVD in advanc Support auto modes, AUTO HOME and AUTO AWAY
Note
1.This is RM4C mini, is Broadlink its latest brand products(Bestcon is a sub-brand of Broadlink. Compatible with Broadlink APP. If you mind, please do not buy!); 2.The RM4C mini only supports IR devices;
RM4C mini IR UNIVERSAL REMOTE
Conteol all IR devices from smart phone and voice Automate scences by triggening from sensors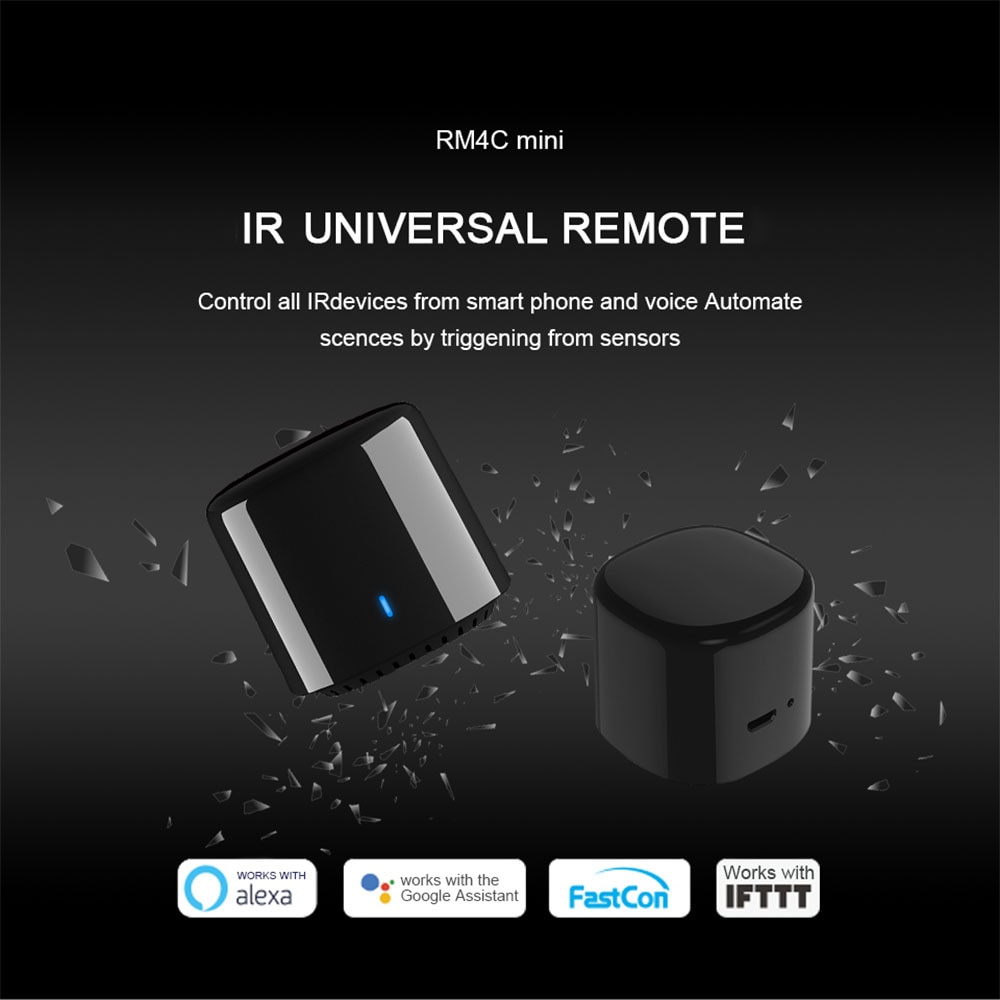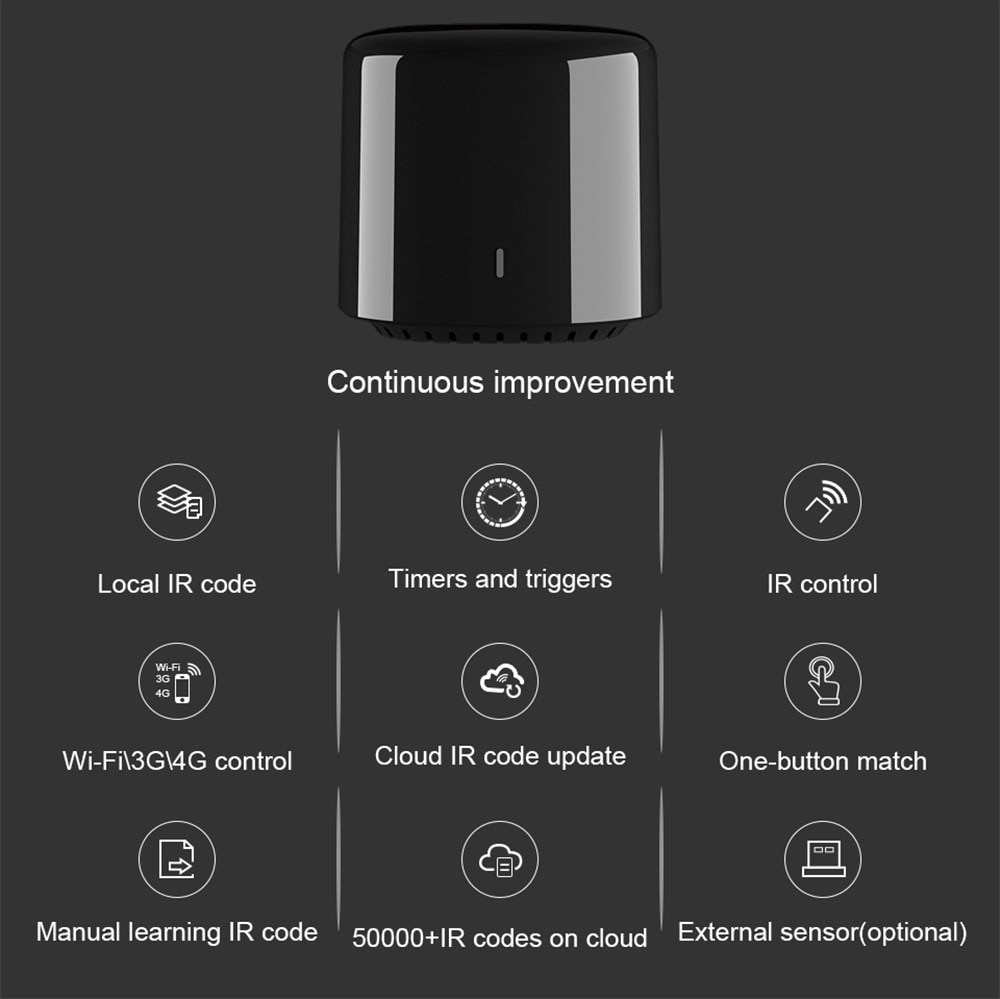 IR APPLIANCE,FULL INTEGRATION
With RM4C mini, you can control your home appliances with your mobile phone and support a variety of appliances such TVs, set-top boxs, and air conditoners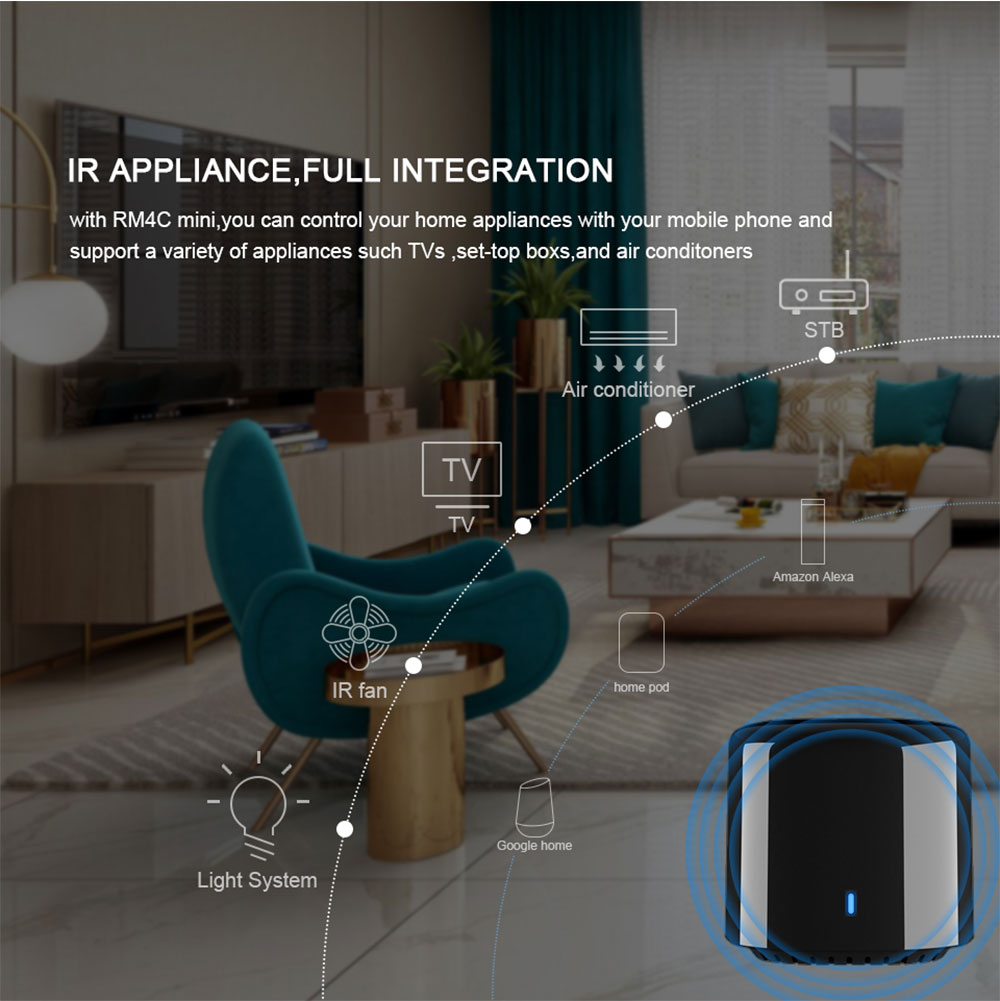 REMOTE CONTROL
If you are not at home, you can also turn om/off Home appliance through your mobile phone or check the status of the electrical in real time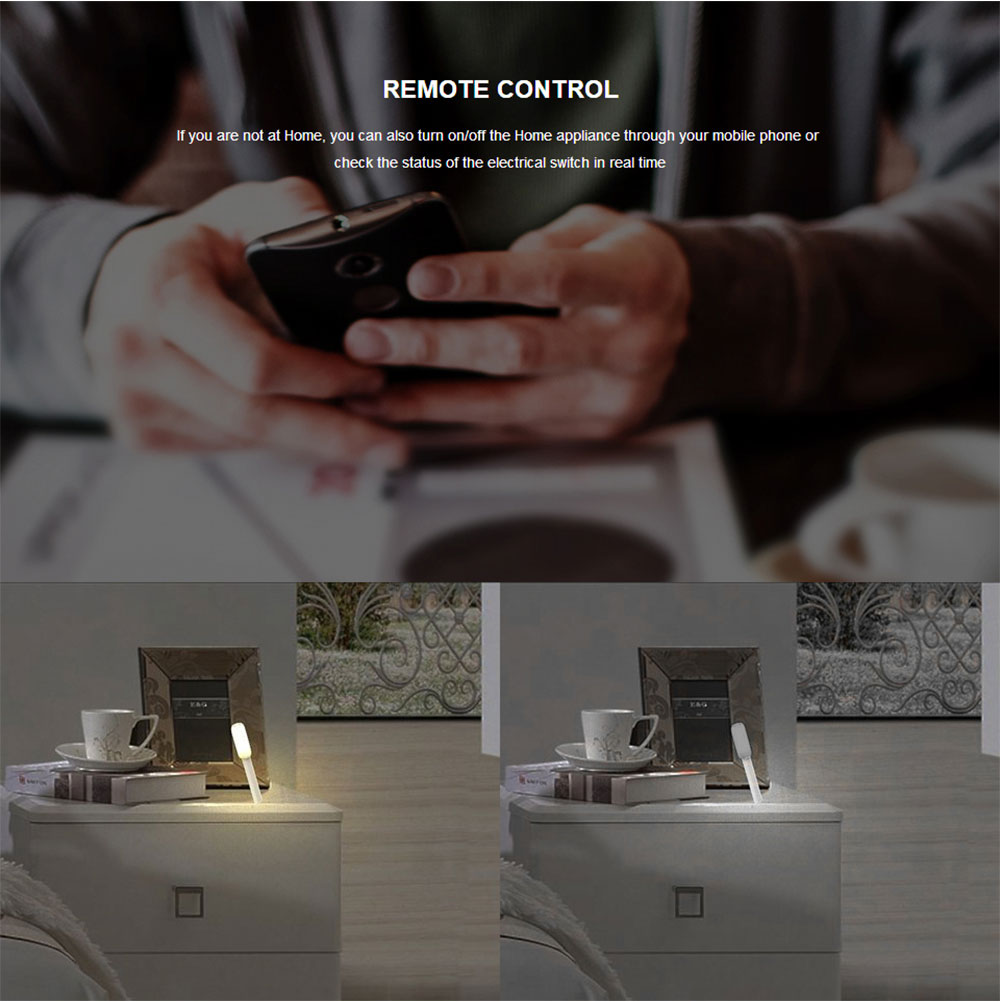 TEMPERATURE AND HUMIDITY INDUCTION
Use with temperture and humidity external sensor to achieve IFTTT, reflecting the thoughtflness of smart devices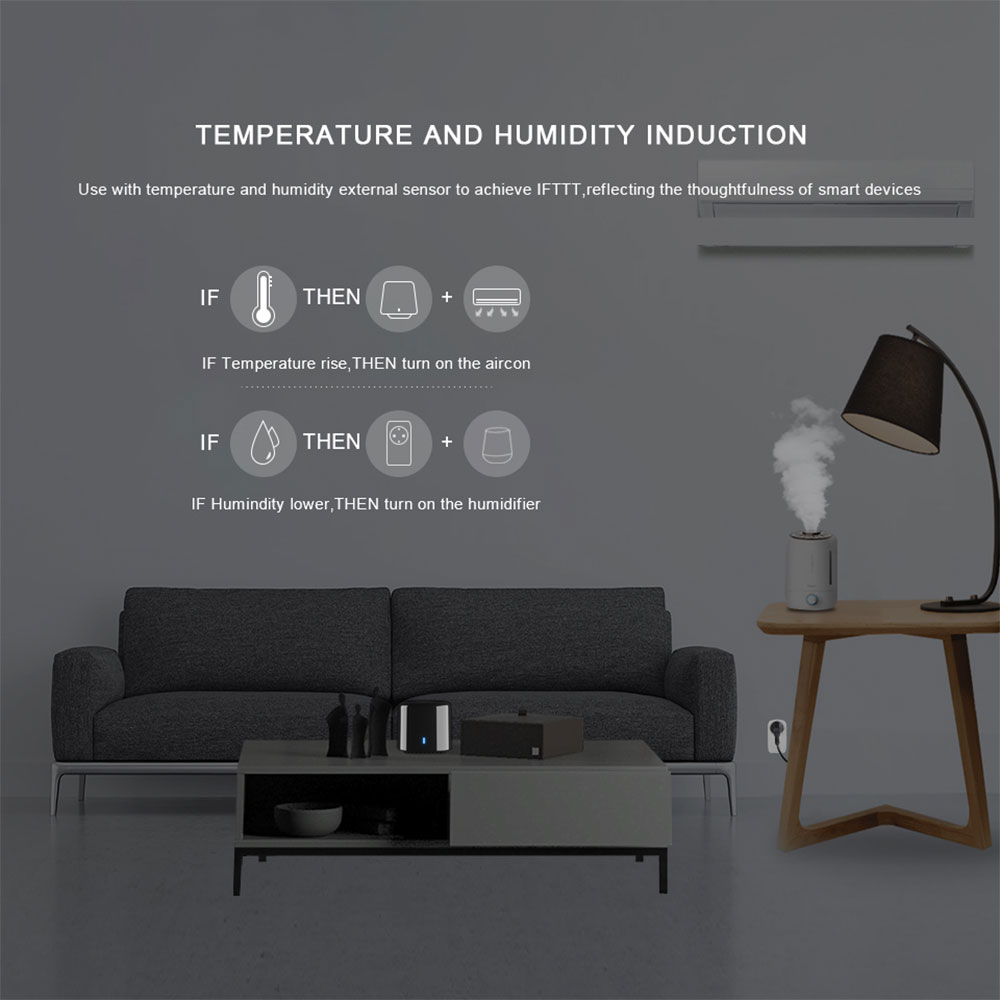 POWERFUL AND STABLE PERFORMANCE
Infrared remote control with a linear distance of 8 to 15 meters, wide coverage and strong launch capability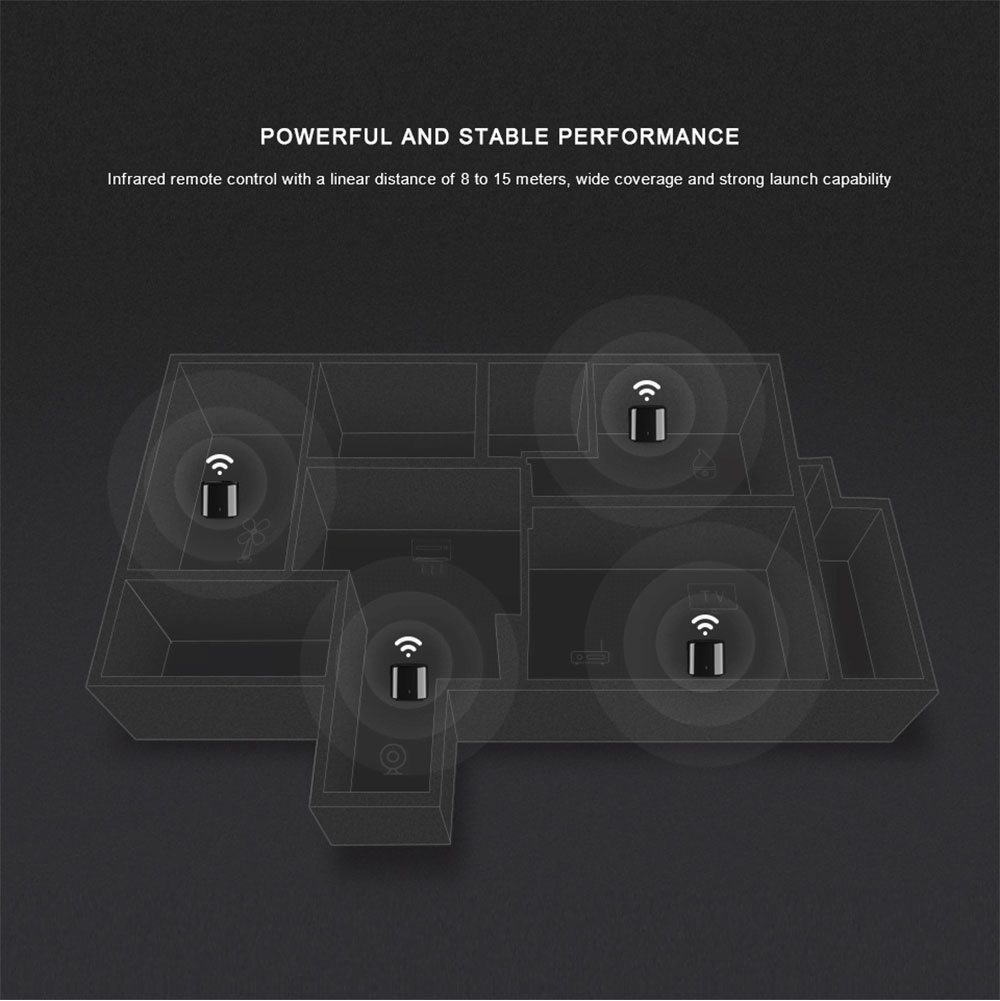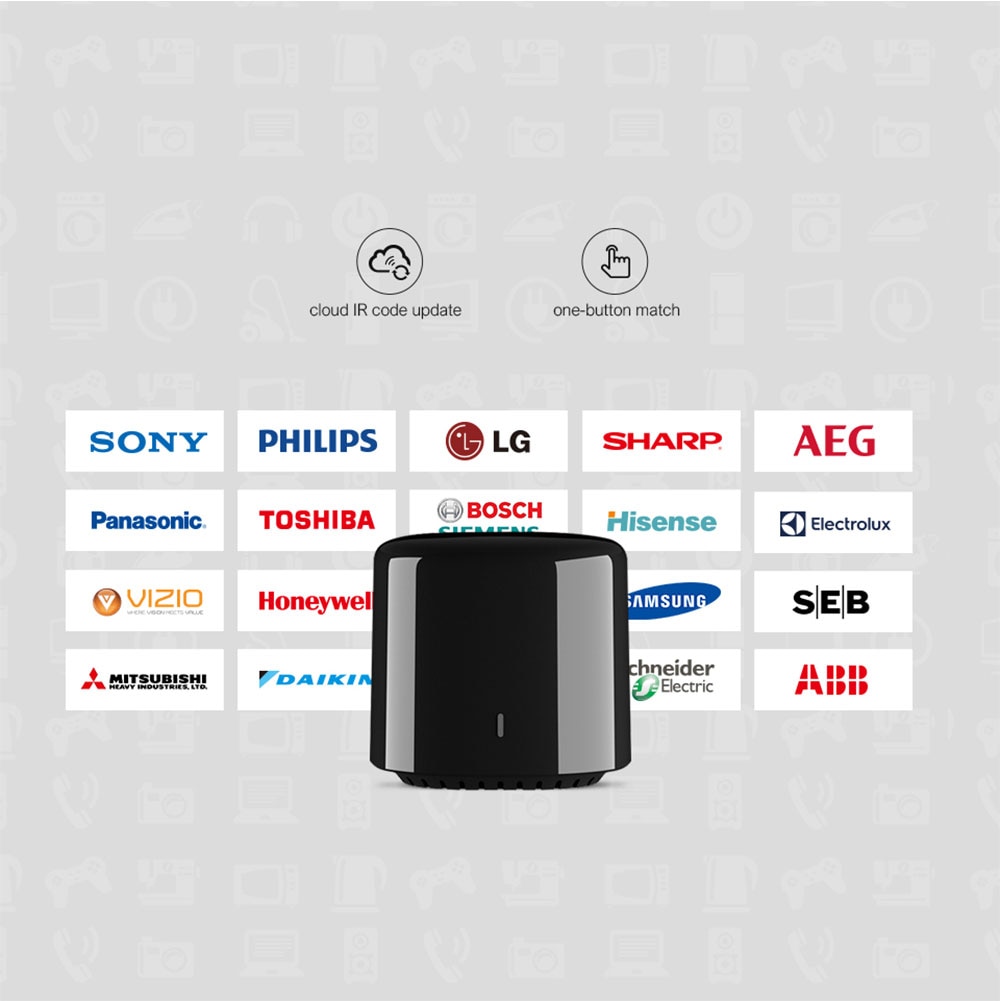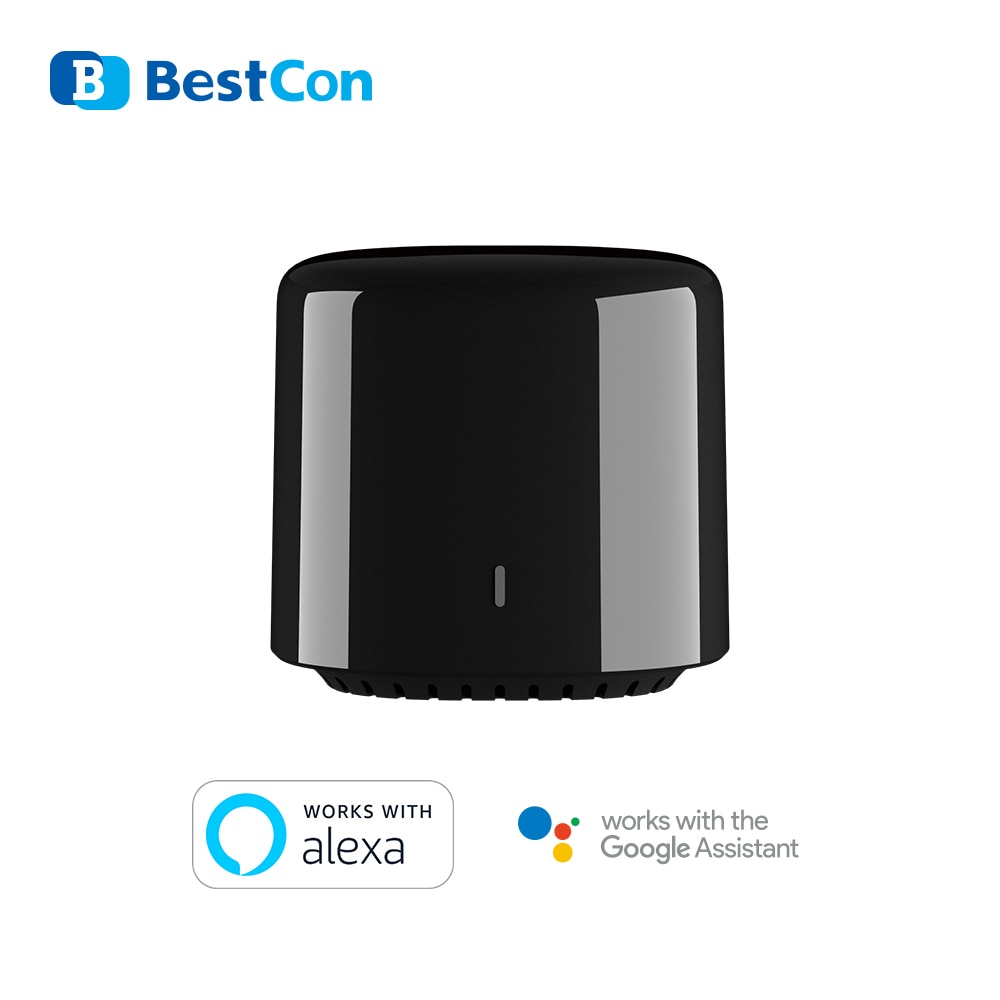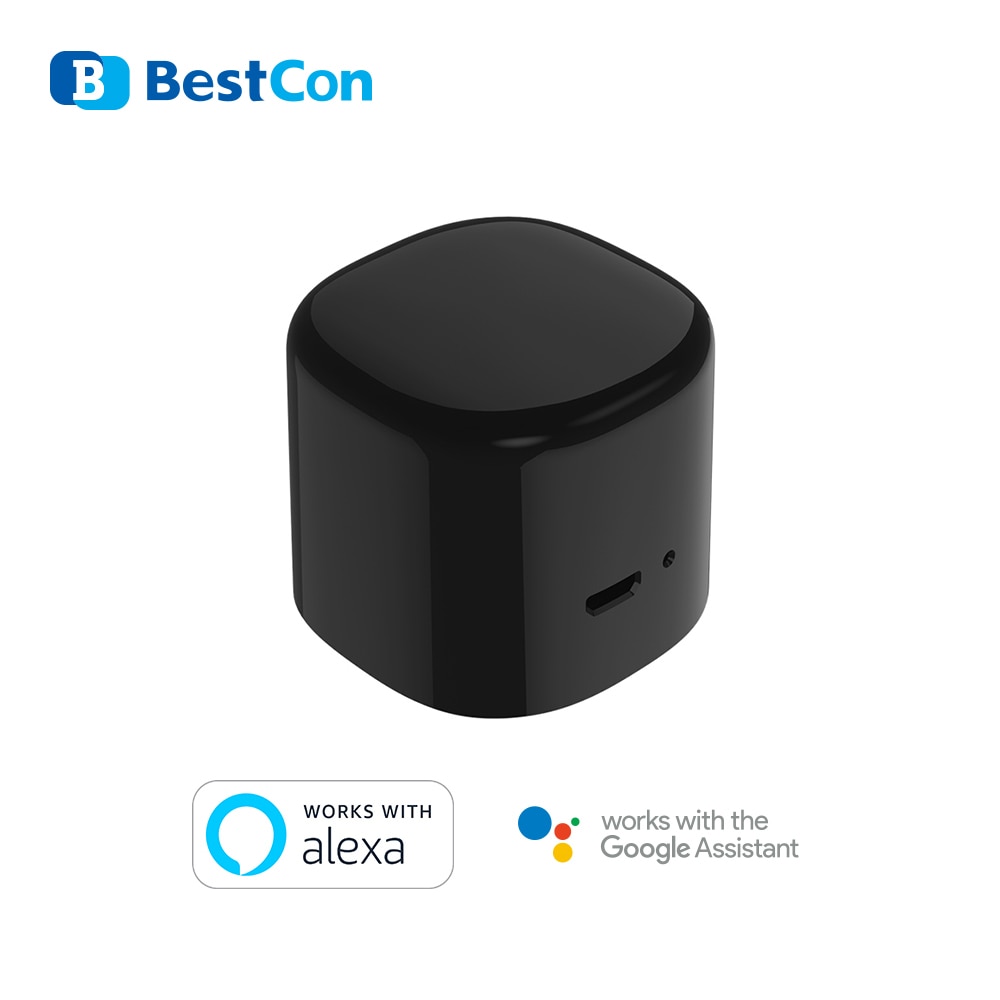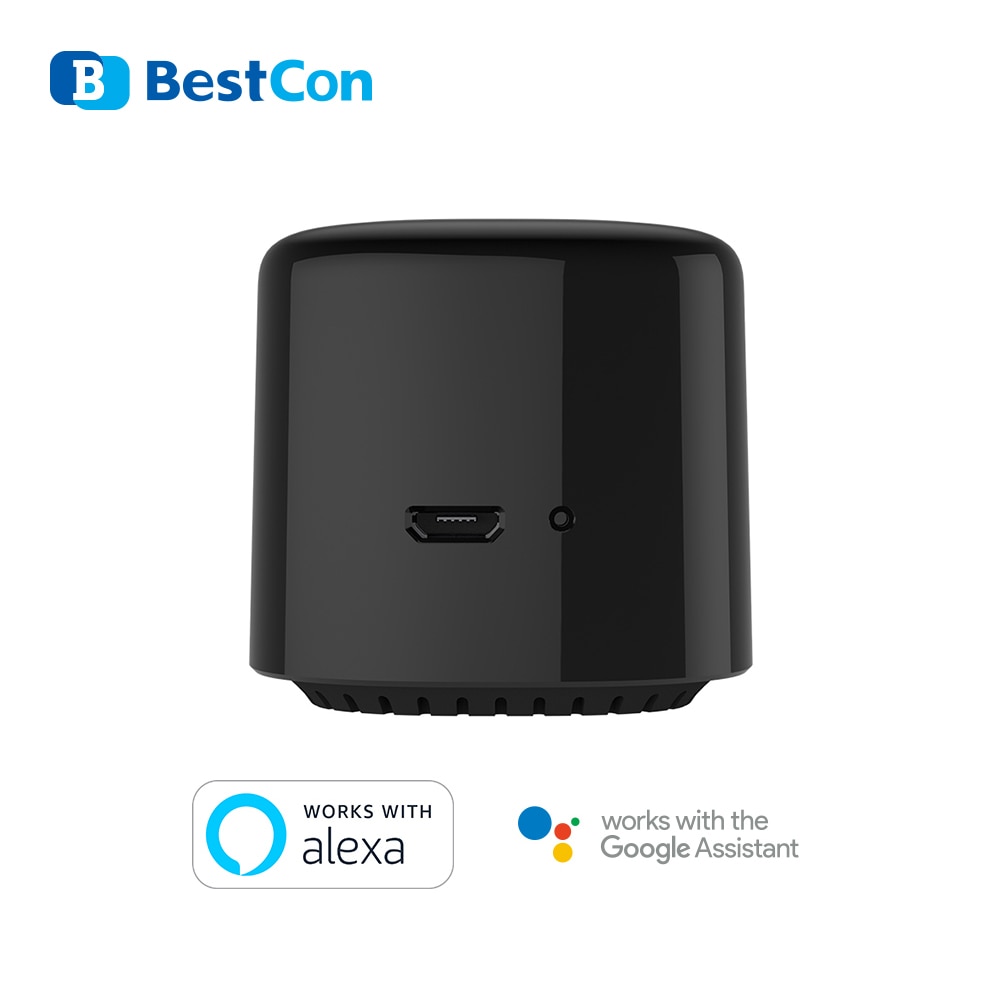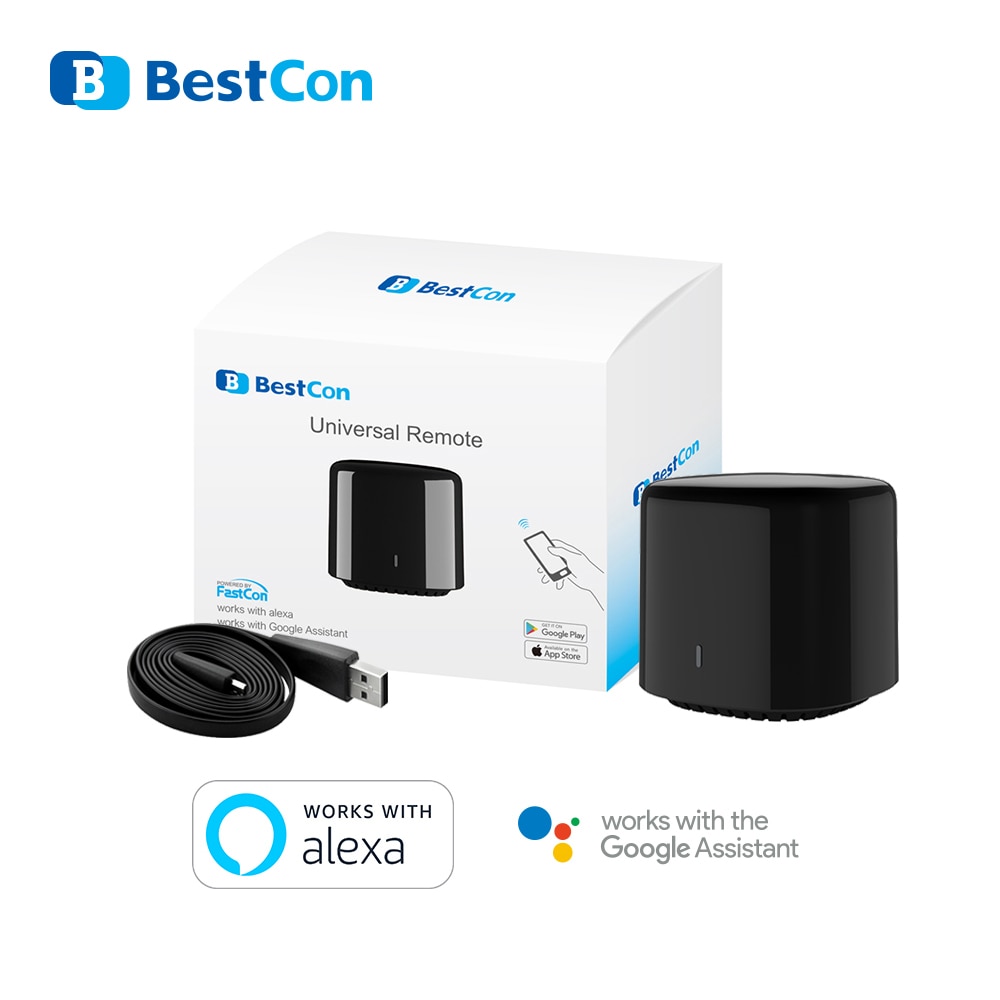 Here you can take, it came in 2 weeks.
RETURNS POLICY
Your 100% satisfaction is important for us. We offer trackable free shipping and delivery to the U.S. Our delivery takes 2-9 business days from the day we process your order depending on the product you order. We offer a 30-days Return & a 7-days refund Policy: • If a product gets damaged or was faulty upon a delivery - we offer 100% refund. • Timing: we have a 30-days Return & a 7-days refund Policy, since the day item was received. • To be eligible for a return, goods must be unopened, unused, undamaged and accompanied by proof of purchase. To avoid delays in the process of your request, please don't send us any items before emailing us. • For returns, please email us at urezbuy@gmail.com with the subject 'Returns' and include your order number, name and the reason for the return. • Seller will provide the customer with instructions where to send returned goods. Customers are strongly recommended to get proof of postage when returning goods to avoid "lost packages" situations. • Please note that customers are responsible for shipping costs of returned items. • When returned item is received and inspected, customer receives a confirmation email, notifying about the status of the refund. • If the refund is approved, then it will be processed and a credit will automatically be applied to customer's credit card or original payment method shortly after.