Buttons Extension Trigger For PS4 Controller
customers are viewing this product
Which generation for PS4 controller do I have?
Since there are multiple versions for the Dualshock 4 controller on the market, it is important to check the controller before purchasing. GEN 1 and GEN 2 for PS4 controllers: 4-472-348 -... 11F1,12F1,31F1,41F2,01G,02G,03G,21G 4-539-610 -... 71F1 GEN 3 (V1) PS4 controller: 4-472-348 -... 13F1,33F1,42F2,51F1,61F2,04G,23G 4-473-498 -... 11F1, 02G, 01G 4-573-474 -... 11F1, 21F2, 31F1, 01G 4-539-610 -... 31F1, 32F1, 02G GEN 4 and GEN 5 (V2) PS4 controllers: 4-594-645 -... 11F1, 21F2, 01G, 31G, 51G, 61F1, 41G, 61G, 02G 4-594-662 -... 61F1, 22F2, 01G, 02G, 32G, 71F2, 03G 4-698-771 -... 42F1, 23F2, 01G, 32G 4-739-192 -... 01F1 If the model is no longer visible, you can use the following rules: GEN (1, 2, 3) controller has no light strips in the touchpad The GEN (4, 5) controller has a light strip in the touchpad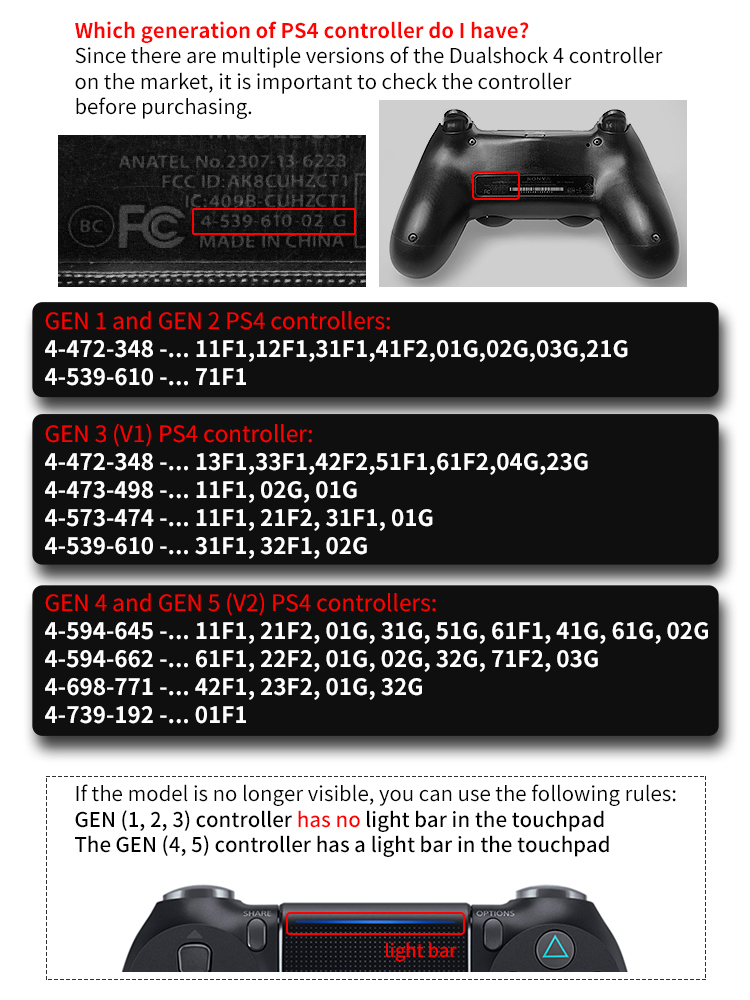 Best Partner
SuppDid you notice that your finger sometimes slips off the PS4 trigger? This is great for professional and amateur gamers and casual.With L2 R2 external trigger extender buttons. Made of high quality ABS material and fit for Sony PlayStation 4 / PS4 Slim / PS4 Pro Controller.These trigger extenders will increase speed and improve accuracy.ort PS4 Controller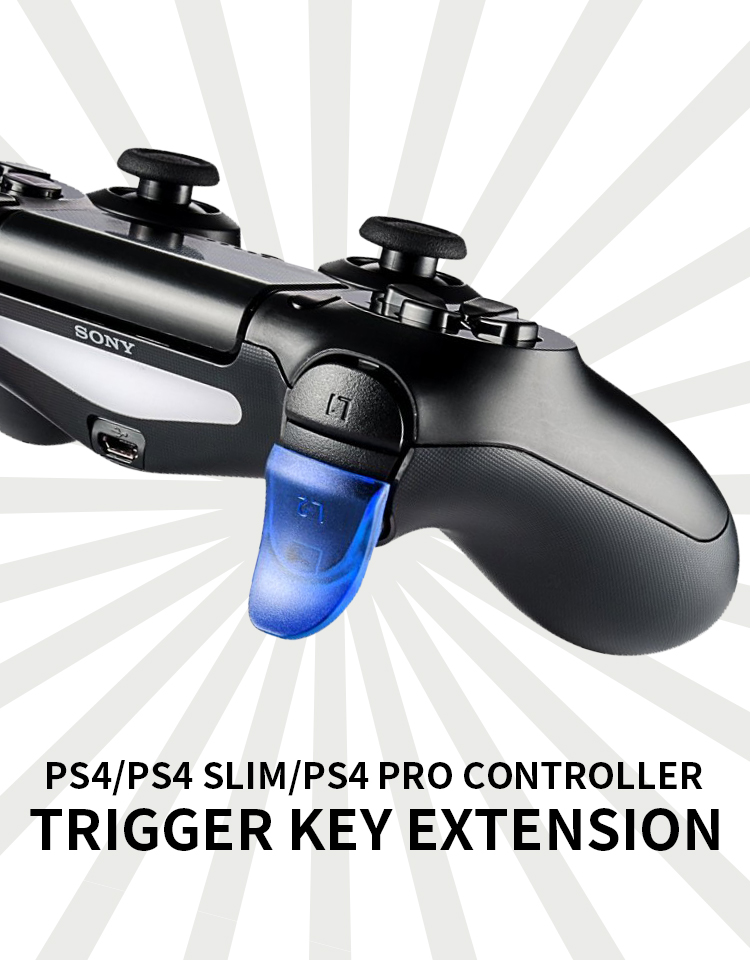 Increase play game speed
Extended keys allow you to speed up faster in the game, gain the benefits of gameplay by increasing the range of motion of the controller and maximizing flexibility, accuracy and grip.This is perfect for the players who want to take advantage of the competition.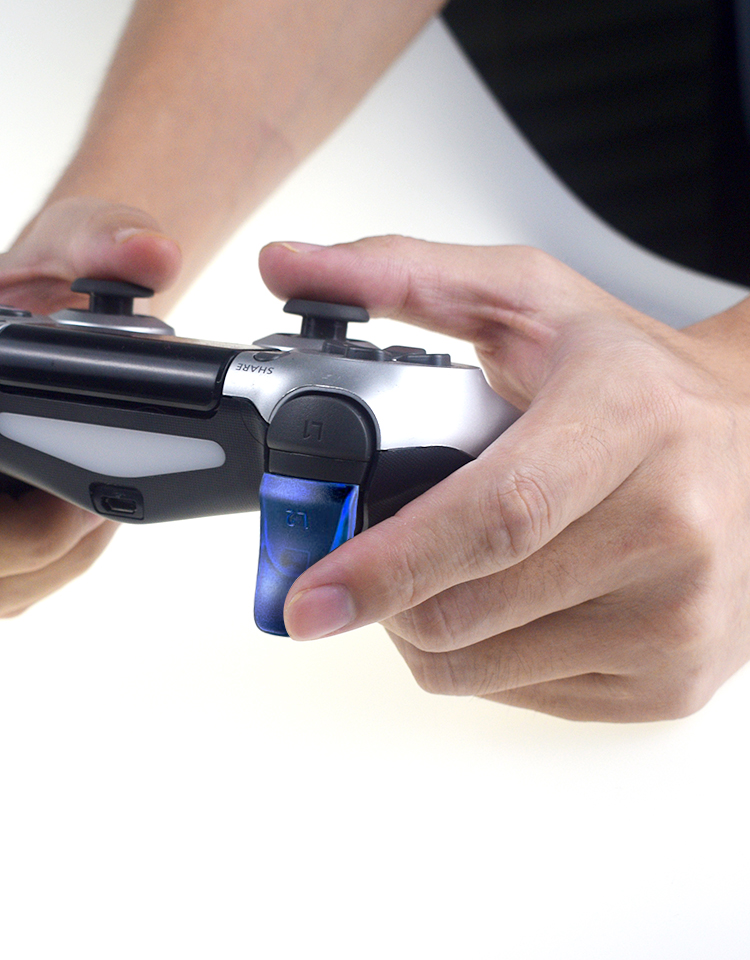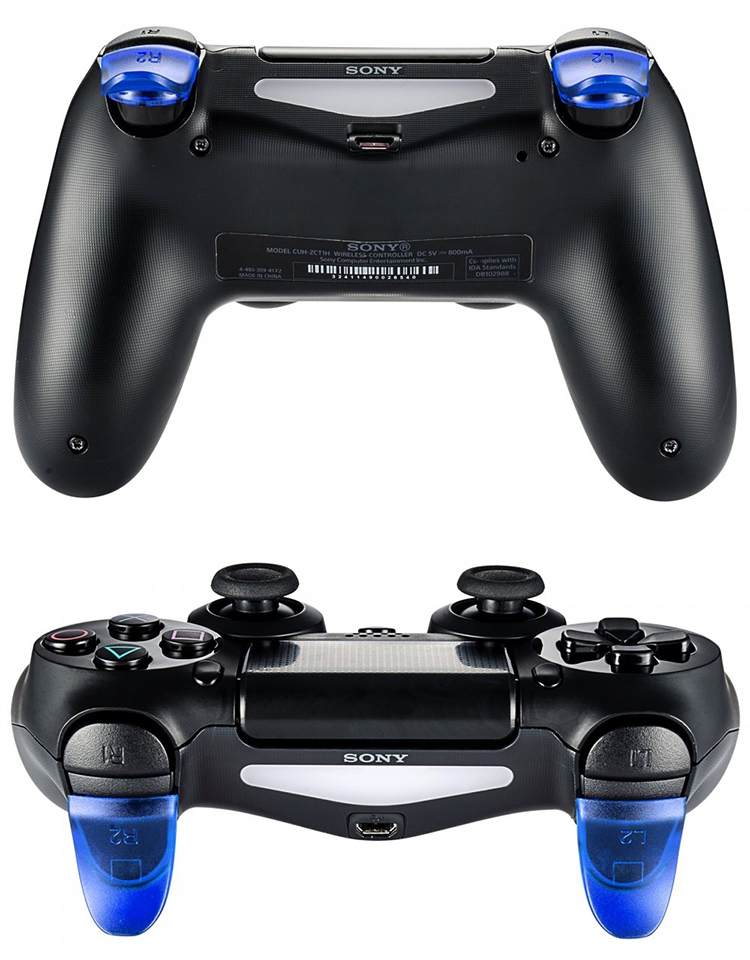 Installation Steps
Help to hit the L2 and R2 buttons fairly easily; Increase the button response for games. Perfect for people with big hands; Rest your fingers; Helps with trigger grip and ergonomics. No skills need, just install on original L2 R2.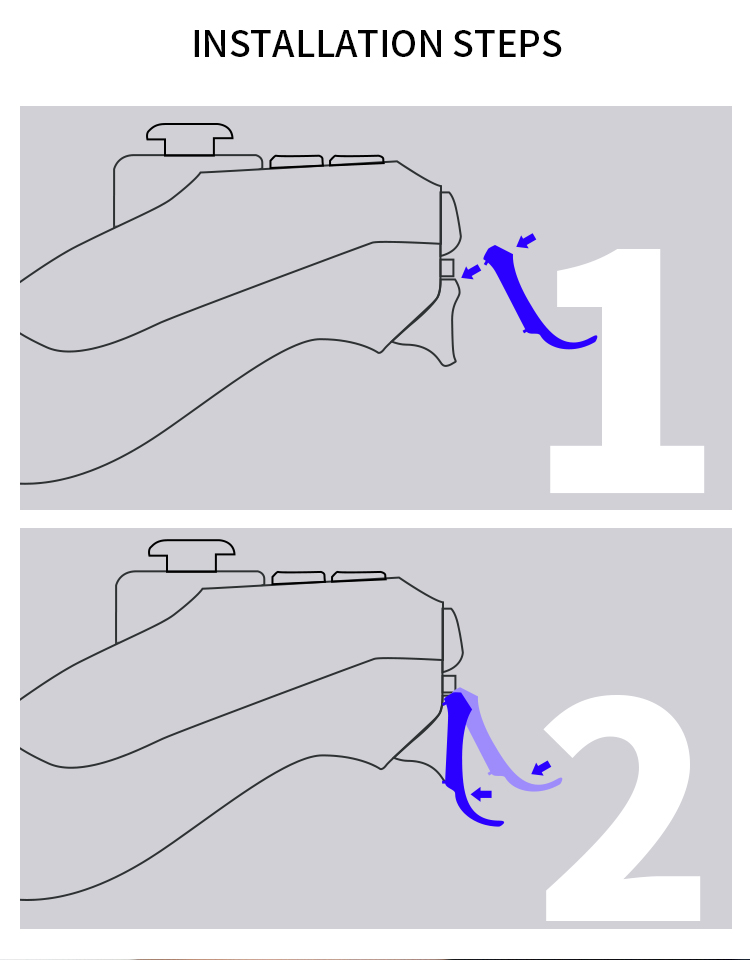 Multiple Colors Available
Describe the details of the selling point above, attracting and providing trust to your potential users.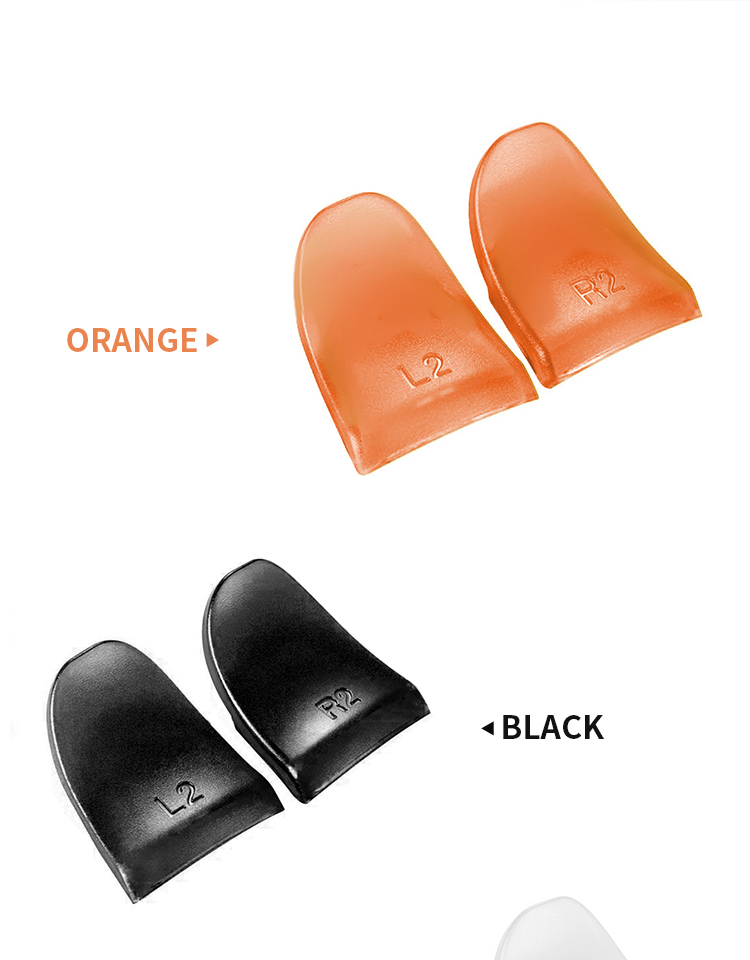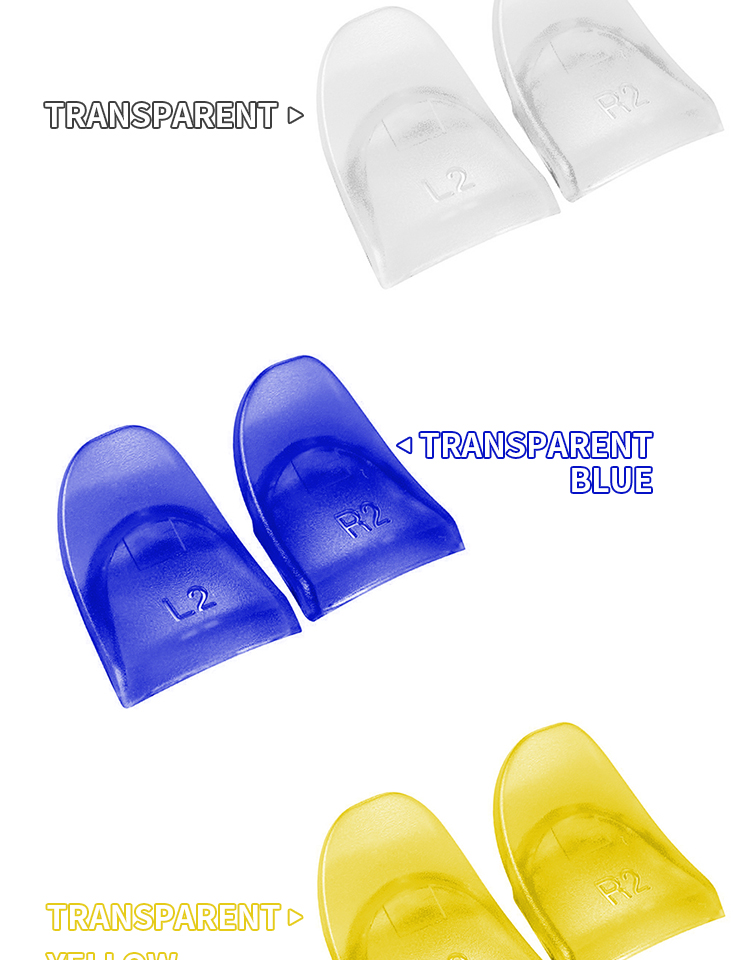 FAQ: (Frequently anwsers of questions from buyers)
Q: Which controller does it support?
A: Dear friend ,it fits for Sony PS4 Controller
Q: Can I install it by myself without any skills?
A: Yes,you can,dear friend,no skills need, just install on original L2 R2 button.
7 Colors Available
Different controllers,and different buttons,more personal style.
Packing list
1 Set X L2 R2 Trigger Extenders For PS4 Controller (Controller is not included)
Gaming Headphones for PS4 Headphones
We use a plush artificial leather ear cushion for this earphone, and the thick sponge design gives a soft and breathable feel! Long-term use of the head without any sense of pressure, the placement of the microphone can promote clear communication with other players during the game, the most important thing is that you can fold up to save space when not in use!
Mobile Phone Game Gamepad For Pubg
Perfect four-finger operation. In the game, the two trigger on the top of the handle is responsible for aiming and shooting. You can quickly open the aiming magnifier and then shoot the enemy while moving and aiming.Experience the real game feel with the integrated handle controller! Let you feel more comfortable and not tired during the game!
Wireless Retro Family Video Game Console
The 4K HDMI video game console is built into the 568 classic game, and the improved handle design makes the two gamepads look simpler. Bring you a retro feeling of the times. When you feel bored or want to leave a childhood for your child, you can choose this product to play games with your child and share happiness!
Buttons Extension Trigger For PS4 Controller
Buttons Extension Trigger For PS4 Controller
Buttons Extension Trigger For PS4 Controller
Buttons Extension Trigger For PS4 Controller
Buttons Extension Trigger For PS4 Controller
RETURNS POLICY
Your 100% satisfaction is important for us. We offer trackable free shipping and delivery to the U.S. Our delivery takes 2-9 business days from the day we process your order depending on the product you order. We offer a 30-days Return & a 7-days refund Policy: • If a product gets damaged or was faulty upon a delivery - we offer 100% refund. • Timing: we have a 30-days Return & a 7-days refund Policy, since the day item was received. • To be eligible for a return, goods must be unopened, unused, undamaged and accompanied by proof of purchase. To avoid delays in the process of your request, please don't send us any items before emailing us. • For returns, please email us at urezbuy@gmail.com with the subject 'Returns' and include your order number, name and the reason for the return. • Seller will provide the customer with instructions where to send returned goods. Customers are strongly recommended to get proof of postage when returning goods to avoid "lost packages" situations. • Please note that customers are responsible for shipping costs of returned items. • When returned item is received and inspected, customer receives a confirmation email, notifying about the status of the refund. • If the refund is approved, then it will be processed and a credit will automatically be applied to customer's credit card or original payment method shortly after.