Multi Functional Dog Chain Pet Product in The Dark Glow Band Correa Lead Pet Product Orange 2m
customers are viewing this product
7 in 1 Nylon multi-functional dog Leash for 1 and 2 dogs hand free pet training for walking running  black orange  2m large dogs
Description: 
​Type: Reflective and glow in the dark dog leash, multi-functional leash for different purpose use
Color: black, orange,red
Material: Nylon webbing, 3M reflector, SBS buckle, Alloy metalic O ring
SIZE: 2.5CM*200CM
Feature:
1) Easily switch from a 175 cm leash to a 135/100 cm leash or to a hands-free leash
2) Padded diving cloth which is not only durable, but also comfortable and soft hand feel.  
3) Luminous lines (glow in the dark) and reflective stitching make double safety assurance when you are walking your pet or jogging in the night. 
4) 2 Strong stainless snap hooks and 1 O ring and 2 D rings
How to use:
1) Leash (120 cm): Attach the hook to the D ring at the end of leash
2) Leash (155 cm): Go from 120 to 155 cm by attaching the hook to the O ring 
3) Leash (175 cm): Go to the 175 cm length by attaching the hook to the first D ring
4) Double lead: 1 hook to the O ring and 1 hook to the 1st D ring as two collars, then pull the middle of the leash 
6) Hands -free leash: waist leash
7) Hands-free leash: shoulder leash
7) Tie to the post or the tree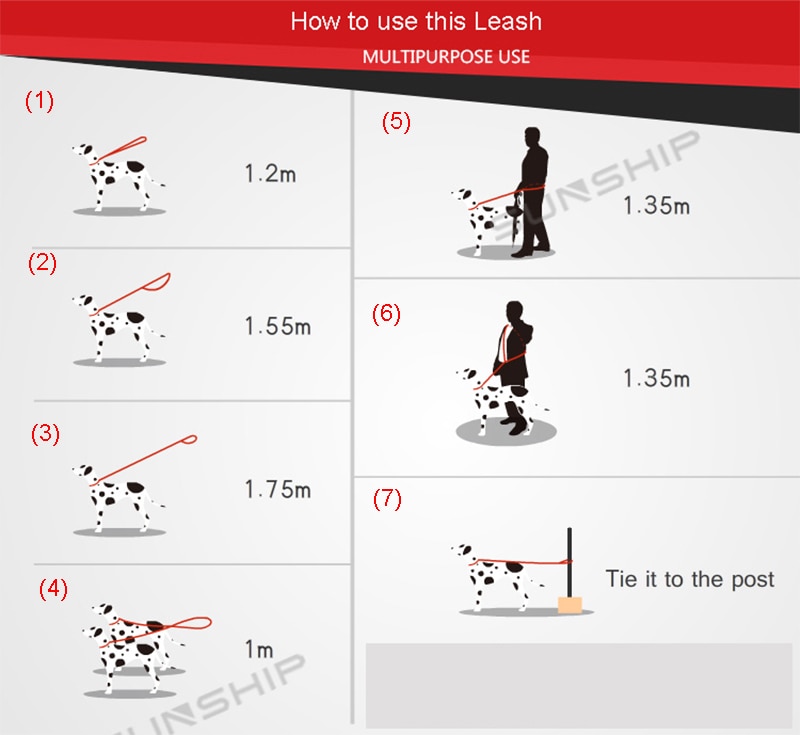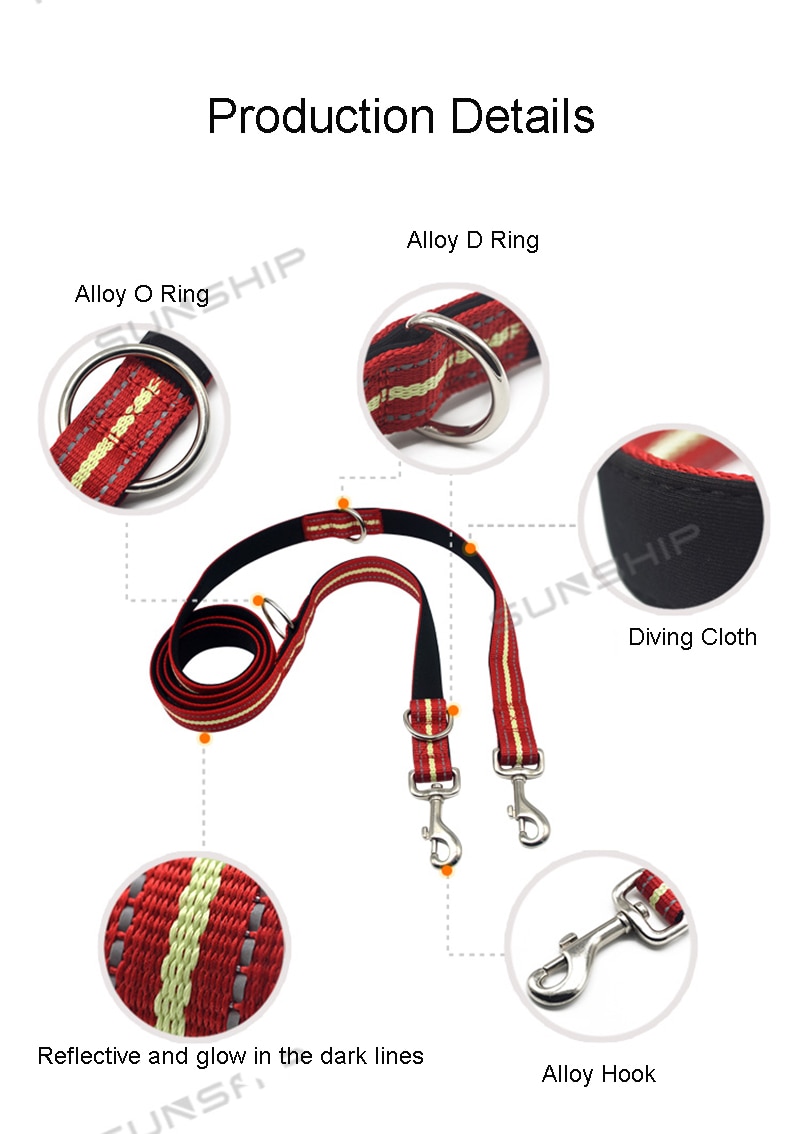 Production details: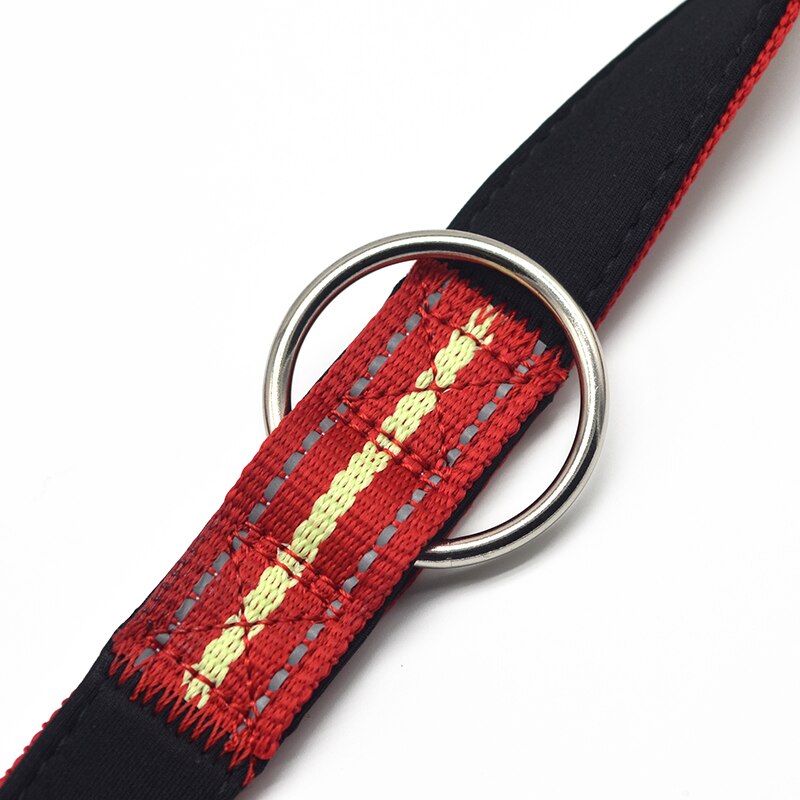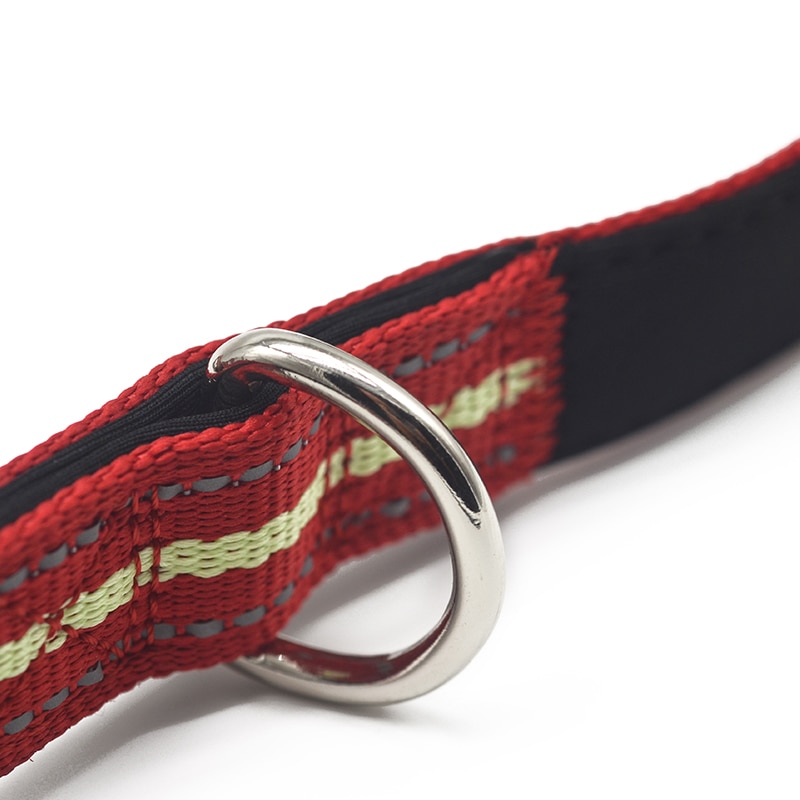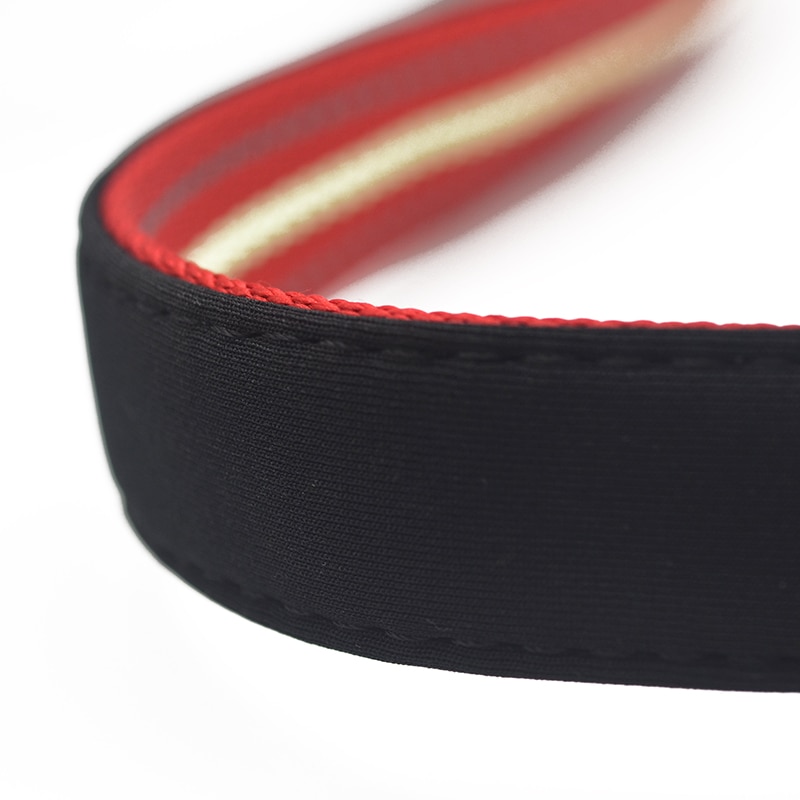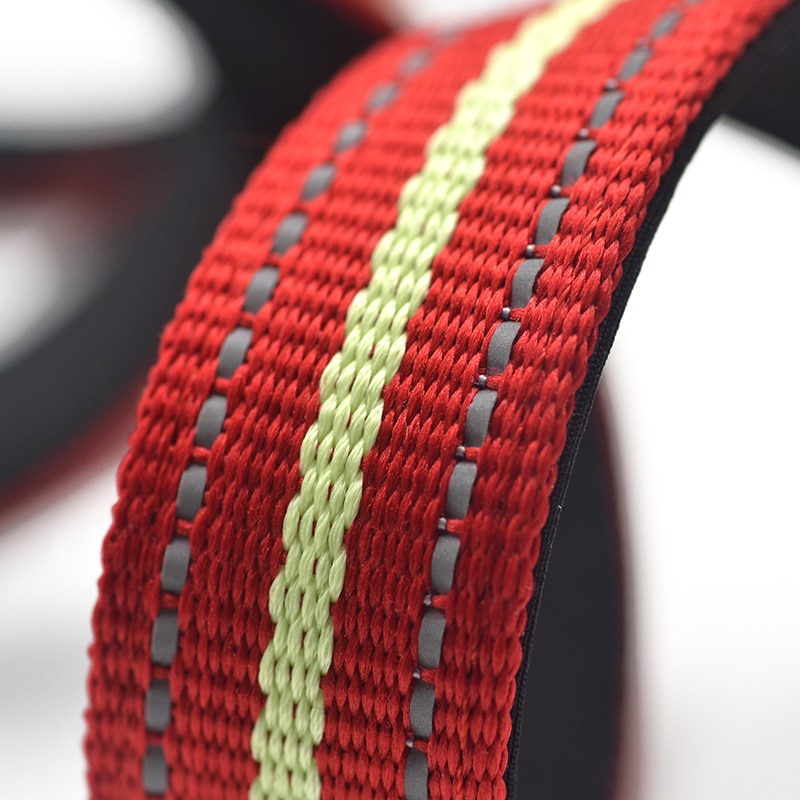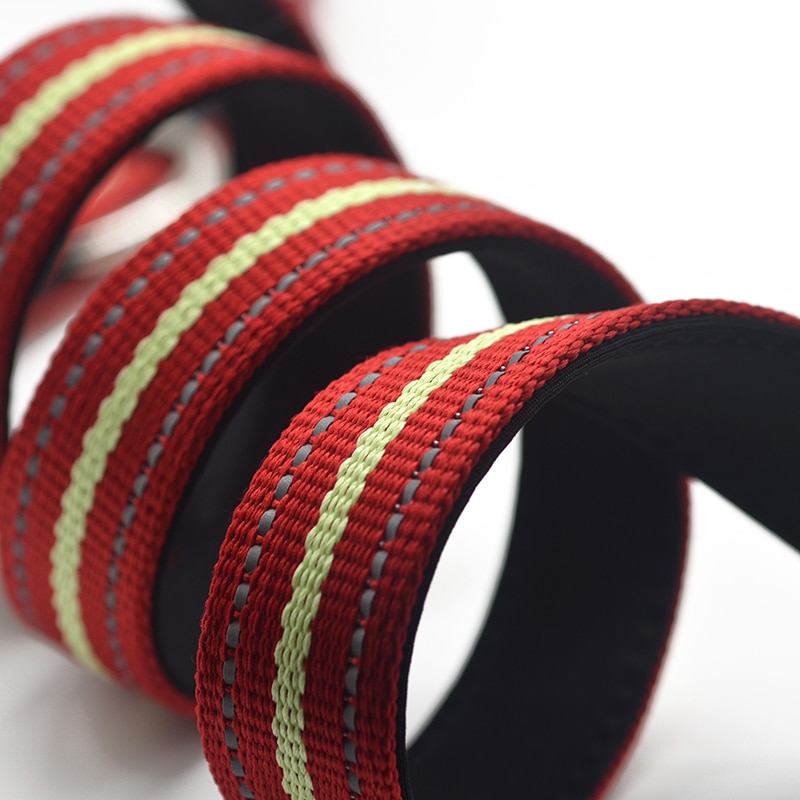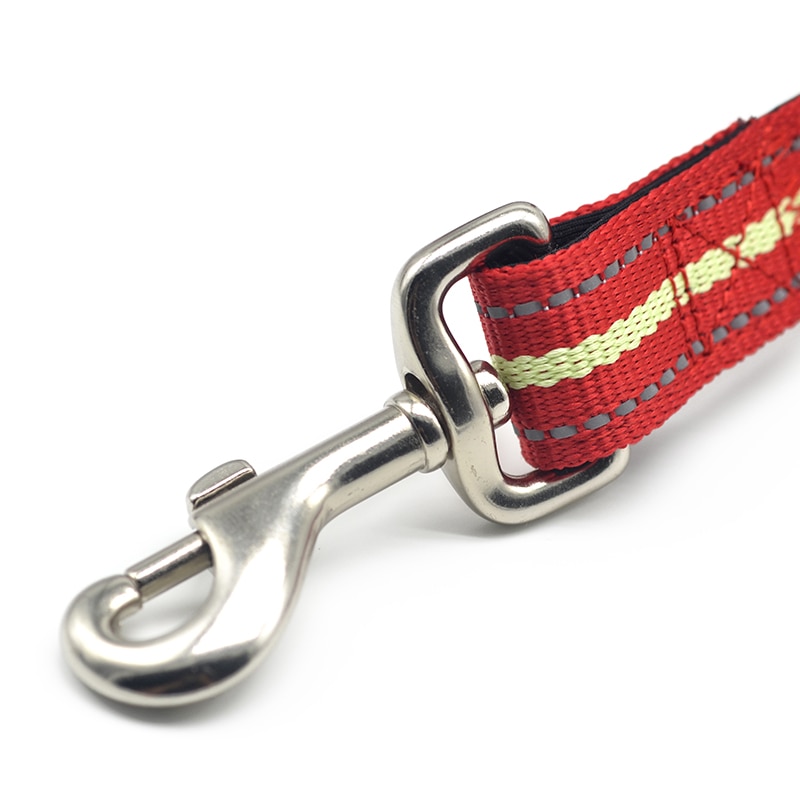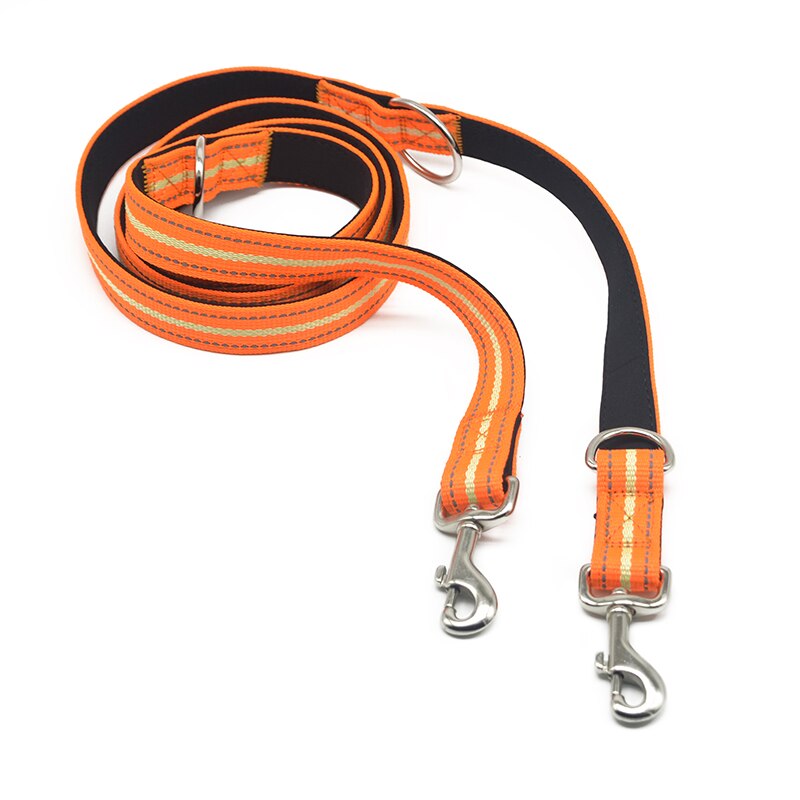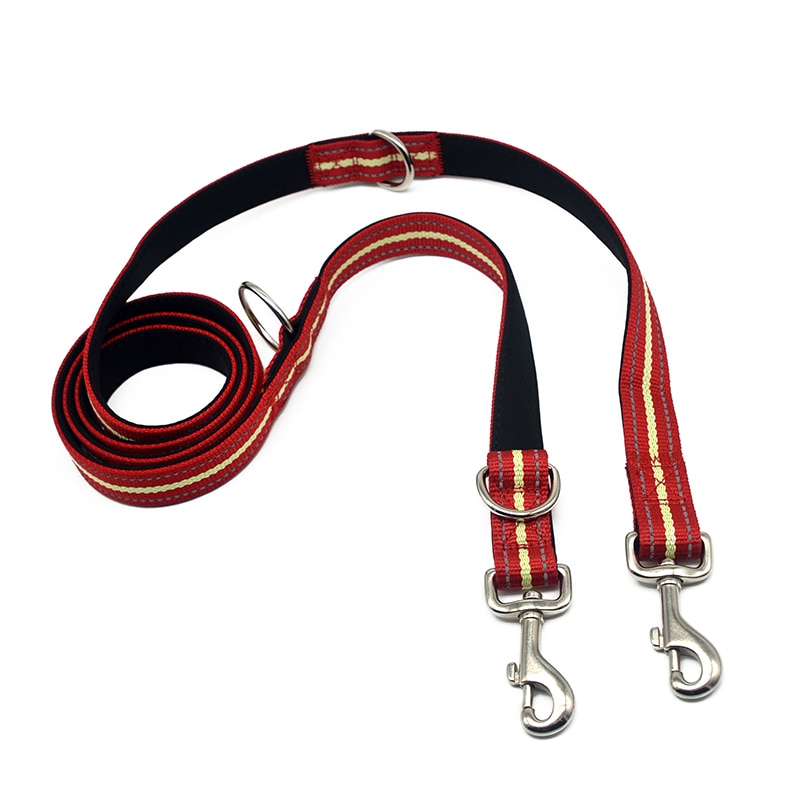 llego en tiempo? si. esta bonito? si. y solo estos los positivos. es una correa MUY pero MUY PESADA!!! tambien para la persona, como para el perro. (el mio tiene 20 kilos, asi que no es un pincher...) no es nada relajante o comodo ir a pasear con este correa. pesa 350 grammos! ademas no hay devolucion gratis. el correa me costo 13 euros, la devolucion 15 euros mas? no, gracias.... pensad muy bien antes de comprar!
Multi Functional Dog Chain Pet Product in The Dark Glow Band Correa Lead Pet Product Orange 2m
Of less flexible material than "silky" biotan. Sections are not processed, if this is for someone fundamentally. The accessories are good, everything is qualitatively stitched. Many rings along the entire length. The dimensions of the buckles are not horse, but for small breeds will not work (kg from 17). You can use it as a leash-stop-up in different ways and as a sworku for two dogs. Multifunctionality!
The ammunition is very high quality and beautiful, one minus at the leash, it is tough, not as soft as collars, it is not very convenient to hold in your hand.
Multi Functional Dog Chain Pet Product in The Dark Glow Band Correa Lead Pet Product Orange 2m
RETURNS POLICY
Your 100% satisfaction is important for us. We offer trackable free shipping and delivery to the U.S. Our delivery takes 2-9 business days from the day we process your order depending on the product you order. We offer a 30-days Return & a 7-days refund Policy: • If a product gets damaged or was faulty upon a delivery - we offer 100% refund. • Timing: we have a 30-days Return & a 7-days refund Policy, since the day item was received. • To be eligible for a return, goods must be unopened, unused, undamaged and accompanied by proof of purchase. To avoid delays in the process of your request, please don't send us any items before emailing us. • For returns, please email us at urezbuy@gmail.com with the subject 'Returns' and include your order number, name and the reason for the return. • Seller will provide the customer with instructions where to send returned goods. Customers are strongly recommended to get proof of postage when returning goods to avoid "lost packages" situations. • Please note that customers are responsible for shipping costs of returned items. • When returned item is received and inspected, customer receives a confirmation email, notifying about the status of the refund. • If the refund is approved, then it will be processed and a credit will automatically be applied to customer's credit card or original payment method shortly after.